Your Monthly Bulletin of Handmade Marketing Tips, Industry News & Creative Inspiration For Aussie Makers

October Social Media Calendar
Events for creating social media posts, timely offers & themed email marketing that celebrates your unique handmade gifts.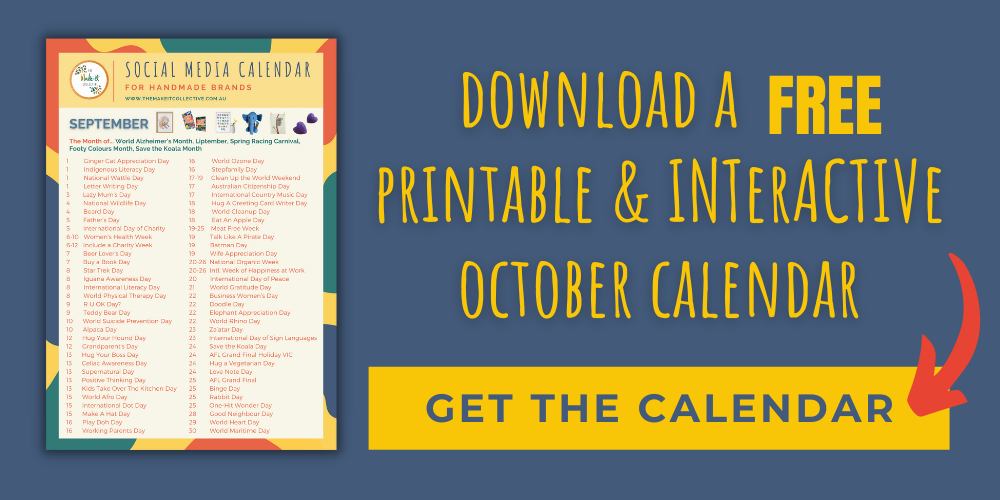 ---
Fair@Square Callout for Festival Vendors
Fair@Square Festival is seeking vendors for Australia's biggest ethical lifestyle festival held Saturday 11th & Sunday 12th of December 2021 at Melbourne's Immigration Museum. The festival appeals to consumers looking for ethically sourced, less harmful options and sustainable handmade products. The free event will feature a marketplace packed with conscious gift ideas in time for Christmas and visitors will be able to engage via the free programming, featuring workshops, talks and entertainment.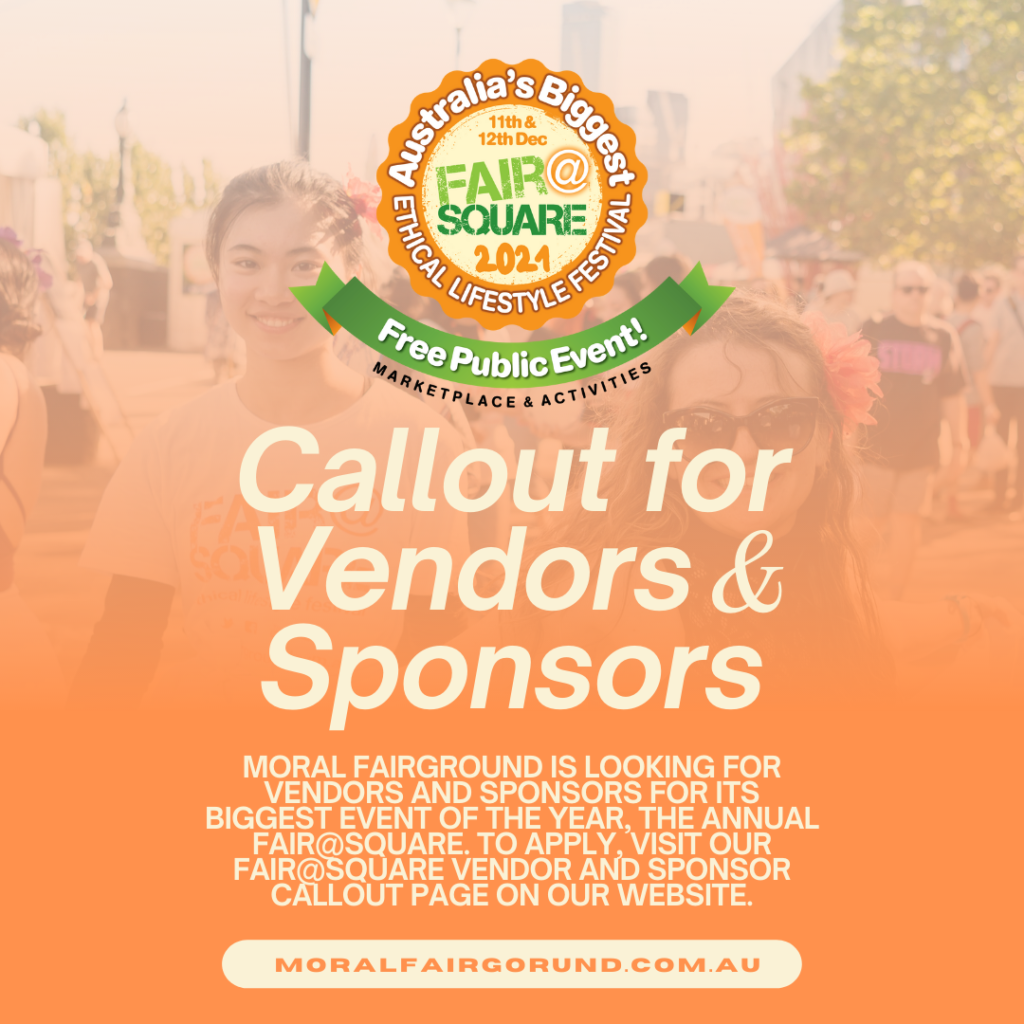 See also 👉 Tips For Writing a Winning Handmade Market Application
---
Footscray Community Arts Christmas Market
Expressions of interest are open for the third instalment of the Footscray Community Arts Makers Market, taking place Saturday 11 December. The market will consist of 20-30 curated stalls in a Covid-safe setting. They are seeking bespoke, high quality and artisanal fashion, handmade accessories, homewares, toys, gourmet packaged foods and any other art form you create. There is a $75 stallholder fee for a site 3m x 3m with access to power if required. This is an outdoor event and you are welcome to bring a gazebo. Applications close Monday 4 October.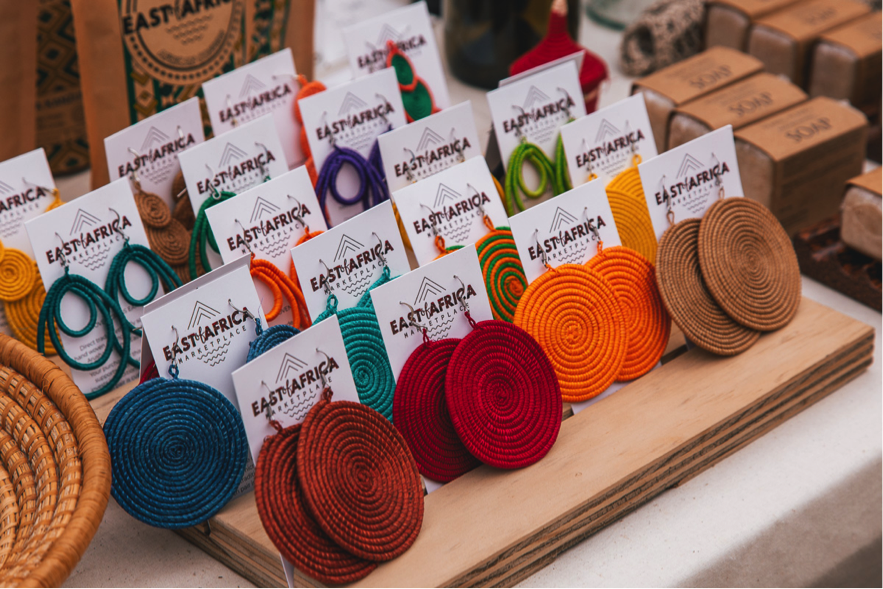 See also 👉 How to Prepare for a Makers Market: The Complete Checklist From Go to Whoa
---
Aussie Maker Makes BBC News for Reviving Traditional Practices
Possum skin cloaks have been used by Aboriginal people in south-east Australia as an expression of individual identity, but the traditional practice was almost lost after colonisation. Aussie maker and proud Boon Wurrung man, Mitch Mahoney, 24, spoke to BBC about why he's helping to drive its resurgence.
---
How to Use Idea Pins on Pinterest
Formerly Story Pins, Idea Pins are a great way for creative businesses to share engaging content with their Pinterest audience that won't disappear after 24 hours. The introduction of Idea Pins hints at Pinterest's shift towards interactive video content and borrows elements from Instagram Stories, featuring a sequence of up to 20 short video clips 60 seconds in length that users can tap through.
Business accounts can tag products in their Idea Pins, allowing users to tap and purchase. You can even add voiceovers to Idea Pins, as well as background music using Epidemic Sound.
You can tag Pinterest users, add stickers to Idea Pins, save multiple drafts, and share your Idea Pins beyond the confines of Pinterest. Its topic tagging feature also makes Idea Pins more discoverable when users search for related terms.
See also 👉 Pinterest for Handmade Businesses: Getting Setup & Selling Stuff
---
City of Melbourne Quick Response Arts Grants
$4000 quick response arts grants from the City of Melbourne are available to artists and small to medium arts organisations across all disciplines and to people from all backgrounds and abilities. Support will be considered for online content, the development of new or unpresented work, or to successfully deliver a project to the public (either online or at a venue within the City of Melbourne municipality). There will be two rounds in 2021 with outcomes required within six months of notification. Applications for Round 2 close 5pm Wednesday 13 October 2021.
---
6 Tips to Improve Your Welcome Email
Welcome emails receive a higher open rate than regular emails, so follow these tips to ensure you make the most of this crucial first impression.
NAIL THE SUBECT LINE

: write something specific, engaging and unique to your newsletter. And avoid using generic subjects like 'You're on the list!' or 'Thanks for subscribing' 👎🏼

SET EXPECTATIONS:

Tell subscribers a little bit about you and your handmade journey, describe the type of content they'll receive in future newsletters, and let them know how frequently they can expect to hear from you.

HIGHLIGHT YOUR SOCIALS:

Increase engagement by including a call to action to follow you on your social accounts. Don't assume because they're hidden in the footer that people will click them.

ASK SUBSCRIBERS A QUESTION:

Promote two-way conversation by asking subscribers a simple question. Encourage them to "hit reply" with any questions they have about your product, suggestions they have for improving your products, or new colours, prints, sizes or materials they'd like to see appear in your range.

KEEP IT SIMPLE:

Welcome emails shouldn't be a chore to read. Keep it brief and respect readers' time, and they'll be more likely to open and read your emails in future.

ASK TO BE WHITELISTED:

As The Newsette do in their welcome email below, ask readers to whitelist your email address to ensure you don't end up in their junk folder. See more whitelisting instructions.
---
How to Remove Product Image Backgrounds in Canva
There are a plethora of background remover tools available, but if you're already using Canva it makes sense to utilise its in-built feature. Check out the super quick tutorial below to find out how. *The Effects button mentioned in the video is now the Edit Image button.
Canva is an easy to use online design platform that allows even the most technically challenged to create beautiful social media graphics, presentations, posters, documents, logos and other visual content using design templates. Start creating with the free version!
---
Making Money From Your Art Online
Creative Victoria has teamed up with ArtsHub to create a video series that helps artists understand digital fundamentals to take their work to a wider audience. This week we look at Video 3: Making Money From Your Art Online.
Useful Timestamps:
00:38 – Sell your products
02:08 – Put your art on stuff!
02:46 – Livestream your event
03:49 – Get crowdfunded
05:08 – Advertise on your site
---
Maker Meme of the Month
---
Psychological Tip For Increasing Sales
Use trust symbols to help boost your product and brand credibility online. These could include things like product warranties, privacy guarantees on newsletter sign up forms and security assurances at checkout. The more fear you can eliminate for the buyer throughout their entire purchasing process, the more likely they are to add to cart and surrender their credit card details.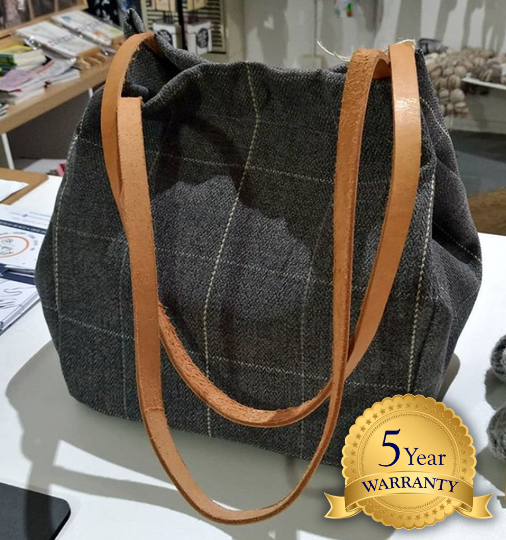 ---
FREE Stock Images
Need images for your social media posts and email marketing? Unsplash has over 2 million free high-resolution images brought to you by the world's most generous community of photographers. All photos can be downloaded and used for free for personal and commercial purposes. No permission is needed, though attribution is appreciated, as it provides exposure for photographers' work and encourages them to continue sharing.
👉 View more free stock images.
---
Making the Most of Your Marketplace Membership
Are you on a Pro Membership with The Make It Collective Marketplace? You're entitled to a Meet the Maker post! Here's a post snippet from one our foundation members, Jess from High Tees…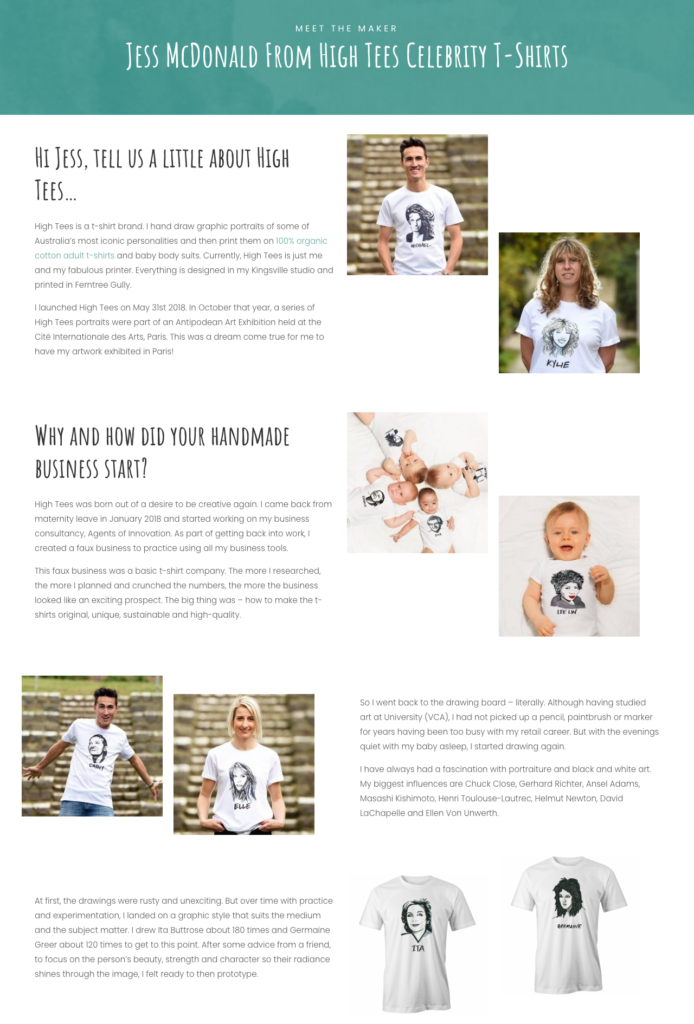 ---
Creativity Quote of the Month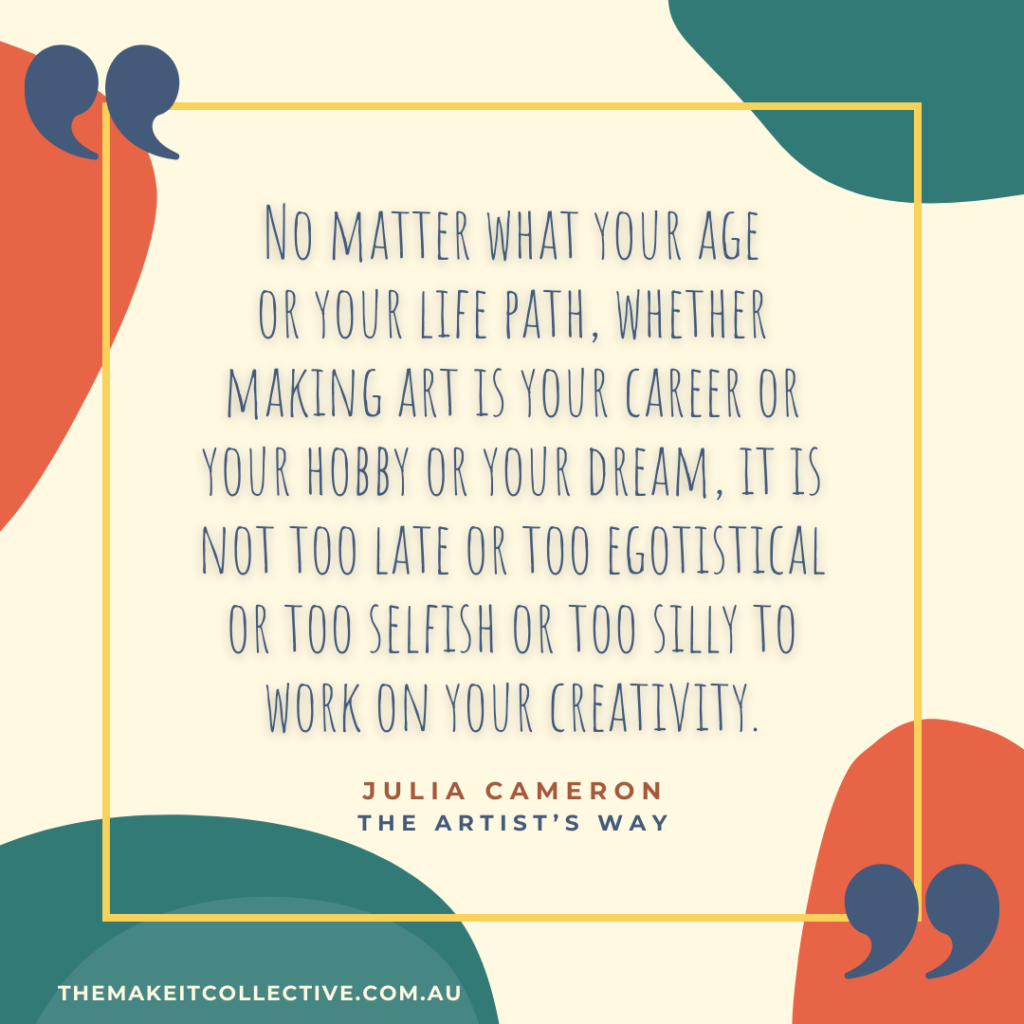 ---
Read More Maker Mail…
– September 2021 ~ Social Media Calendar, FREE A3 Test Print for Artpreneurs, Free Background Remover Tool for Desktop, How to Lock Design Elements in Canva, Getting Your Art Noticed Online, Handmade Ryan Gosling, Quote of the Month
– August 2021 ~ Social media Calendar, Opportunity for Sustainable & Ethical Fashion Makers, Free Legal Advice, How to Create Curved Text in Canva, Essential Mac Shortcuts for Creatives, How to Get Your Art Online
– July 2021 ~ Social Media Calendar, Canva Tidy Up Tool, Maker Meme, Optimising Your Newsletter Sign Up Form, Psychological Tip For Increasing Sales, Free Photography App, Creative Quote
– June 2021 ~ Social media Calendar, The Cult of Done, Free Email Signature Generator, How to Create a Fillable PDF in Canva, Quote of the Month, 100+ Drawing Ideas
Get Maker Mail in your inbox every month!
---