Unless you're selling Handmade Air, your brand really should have an Instagram presence. With 8.8 million active monthly users in Australia alone as of January, it's a gigantic piece of Customer Pie to leave in the Marketing Oven – 36% of the population, to be exact.
Here's how to get your handmade brand successfully setup on Instagram and begin using the platform to attract and convert more followers into not only raving, but paying handmade fans.
Setup (or Convert to) a business profile
Though some argue the benefits of endless organic reach with a personal profile, you're missing out on the perks of a business account, which include Instagram Insights (or analytics) revealing stats on…
Individual post popularity (to give your audience more of what they like)
A geographic and demographic breakdown of followers (age, sex and city)
The days and times your followers are most active (to maximise post reach)
How many people visit your profile and click your bio link
Here's How to Find Your Instagram Insights in a Business Profile…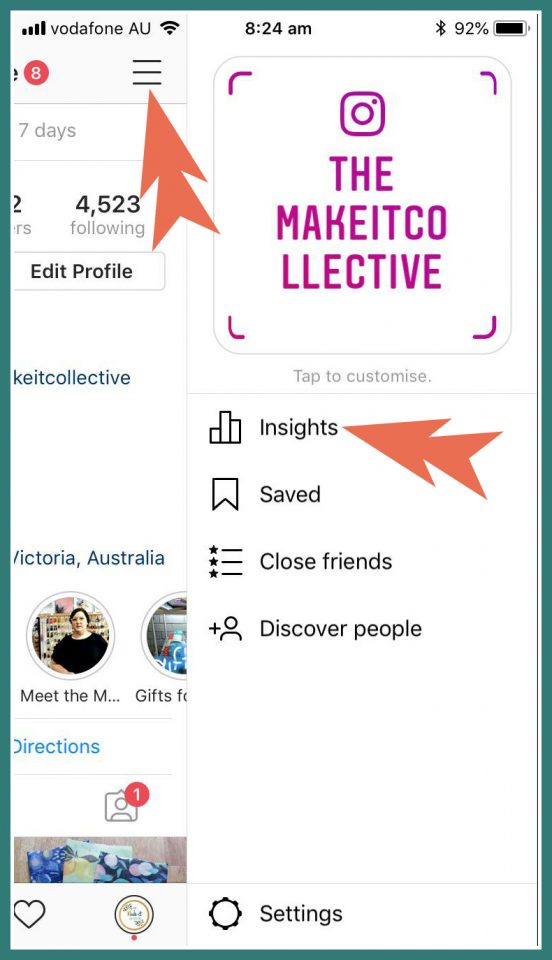 Make the Switch
If you're still using a personal profile to promote your handmade products, convert to a business profile. You can then connect your Instagram account to your Facebook Business Page and add a phone number, email, website and street address (if you have one).
Buttons then appear allowing people to call/text, email and get directions to your business from within the app – something you can't do with a personal profile.
N.B. If the personal profile you've been using to promote your handmade products includes pics of grandkids, French Bulldogs or blueberry pancakes, consider keeping it for personal use and creating a brand new dedicated business account.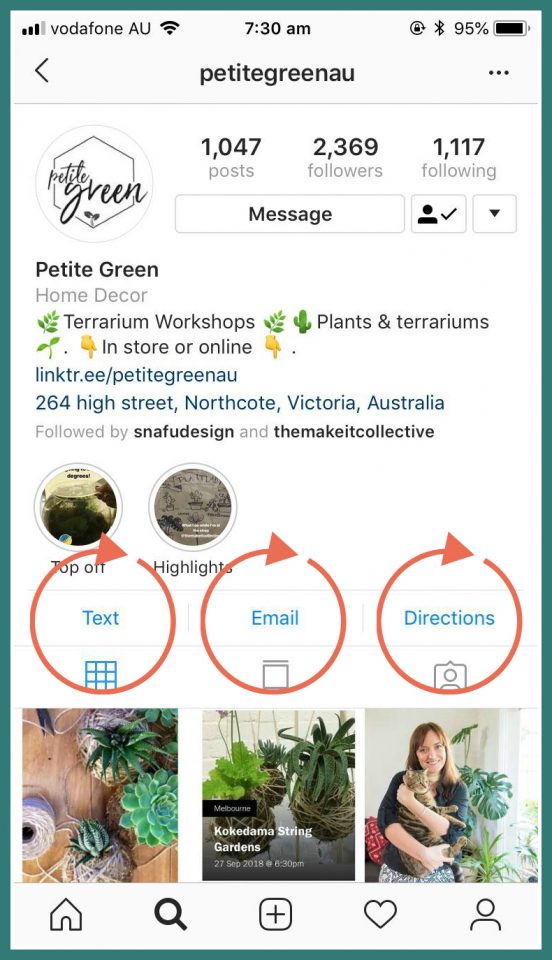 HOT TIP: You can now add an action button under Edit Profile -> Contact Options, which links to a series of booking sites, including Eventbrite. If you're hosting a workshop or ticketed event, consider adding it to Eventbrite and using this feature to encourage followers to "Get Tickets".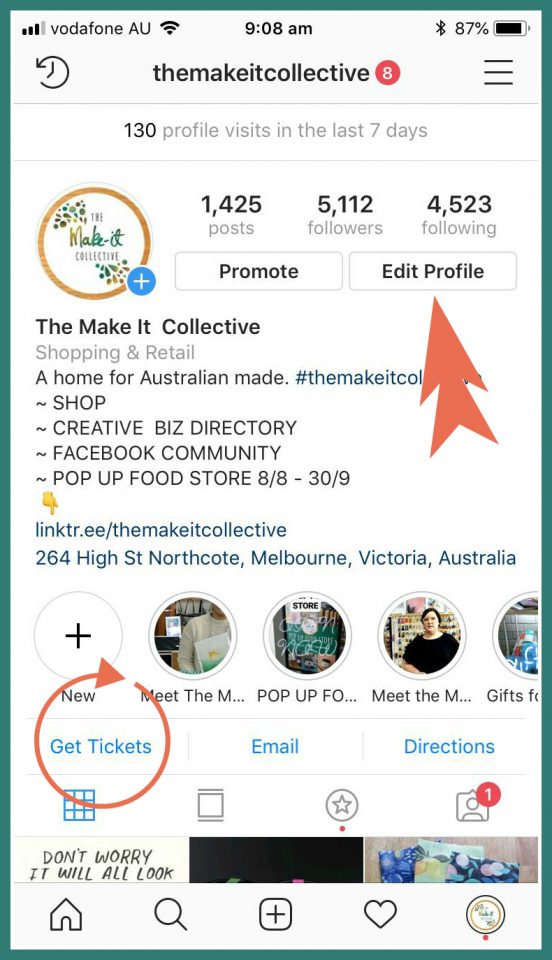 Optimise Your Name and @Username
Both your Instagram Name and @Username are referenced by Instagram's search function, so it makes sense that both are as close to your business name as possible.
Changing your Name is easy, however changing your @Username is trickier, particularly if you've already printed it on a load of flyers or been tagged by customers and other accounts, as these tags will no longer link to your profile after the change.
If you change your @Username for improved searchability, keep in mind this must be unique and your exact business name may be taken. If you need to create a variation of your business name, avoid the following:
including_too_many_underscores
using irrelevant numbers at the end that @nobody_will_remember_384178
making it long and tedious to type when acronyms and abbreviations could be used instead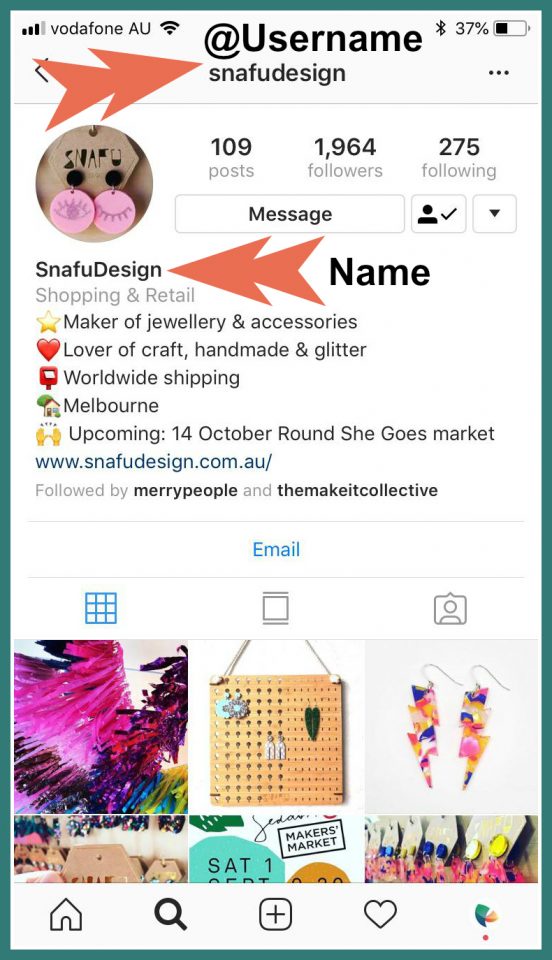 Optimise Your Bio
It takes less than two-tenths of a second for online customers to form their first opinion about your brand, so follow these tips to ensure your Instagram bio is dressed to impress.
Add the All-Important Link
Instagram allows one clickable link in your bio. This can be your website, Makers Directory link, online shop or Facebook page (ideally, wherever people can buy your stuff). You may have noticed some brands using weird links that aren't their website.
This could be because…
1) Some people change their link periodically to promote upcoming events, webinars, product offers, new blogs or other links that align with their current marketing objectives.
Of course, not all URLs are neat and tidy: https://themakeitcollective.com.au/7-reusable-shopping-bags-plastic-ban/ (Waaaay too long!)
So we'd use a free link shorting service like Bitly to create a shorter link: bit.ly/reusable-bags-MIC.
2) Some people use Linktree, which allows them to feature a series of links after users click through from the bio. To see this cheeky (free) workaround in action, click the link in the Next Romance Instagram bio.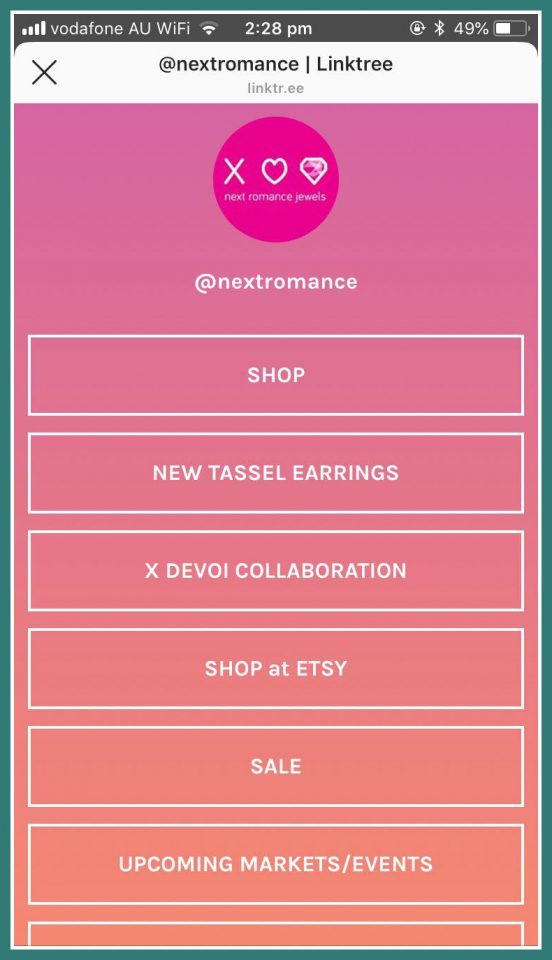 3) Some people aren't aware that Google Analytics can now identify traffic from Instagram. Previously it was bundled under "Direct" traffic… so there was no way to tell the difference between how many people typed your website into a Google search bar, and how many followers clicked the link in your Instagram bio, which meant having to use trackable links to get this info from other platforms (like Bitly or Linktree).
Finding Your Website's Instagram Traffic in Google Analytics

NERD ALERT: If you really want to know how successful your Instagram marketing is, setup Google Analytics Goals on your website to measure things like how much people from Instagram spend when they reach your site, how many people from Instagram sign up for your newsletter, and other meaningful actions taken on your site by Instagram users that help determine whether your efforts are paying off.
Link to a Mobile-Friendly Site
Surprisingly, 30% of Instagram users have bought something they discovered on Instagram, making it a powerful tool to influence buying decisions. But if there's on thing that kills this buying buzz, it's a non-responsive website (the ones that force you to pinch and zoom all over the place on mobile to find what you're looking for and fill out forms).
Unsurprisingly, 53% of people abandon a website that takes more than 3 seconds to load (it's super annoying, right?!), so if your website doesn't load with lightning speed or automatically scale to look great across a range of devices, you're seriously hampering your Instagram conversions and should prioritise a website update before sinking any more time into Instagram marketing – we'll be right here when you get back, promise.
Get a Little Emojinal
You've only got 150 characters to impress the pants off people with your bio. If you can replace words with emojis, you've got more letters to express the WHO, WHAT, WHERE, WHEN, WHY, HOW and UNIQUENESS of your business. But use discretion and don't get too cryptic…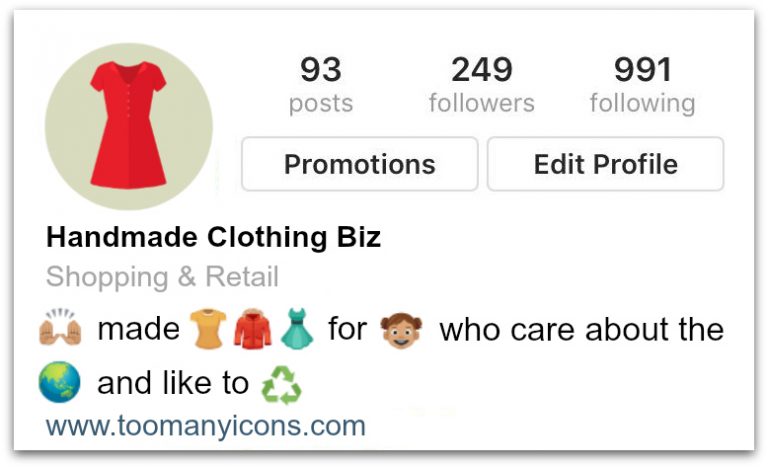 Feature Your Brand Hashtag in Your Bio
Creating a unique hashtag for your brand has many benefits, including:
Boosting brand awareness and followers
Helping promote events, competitions and product launches
Making it easier for you to track fans' content that features your handmade products
Making it easier for followers to find pics of real-life customers using your handmade products
85% of consumers find visual user-generated content more influential than brand photos or videos, so allowing users to easily find this content by clicking the brand hashtag in your bio may significantly impact their decision to buy.
Of course, you don't own this hashtag and anybody can use it for any content, so it's important to make it as unique as possible, while keeping it relevant to your business. Before committing to a brand hashtag, search it yourself and see if other brands or individuals are already using it repeatedly in their feeds – if loads of unrelated content appear under your proposed brand hashtag, head back to the drawing board.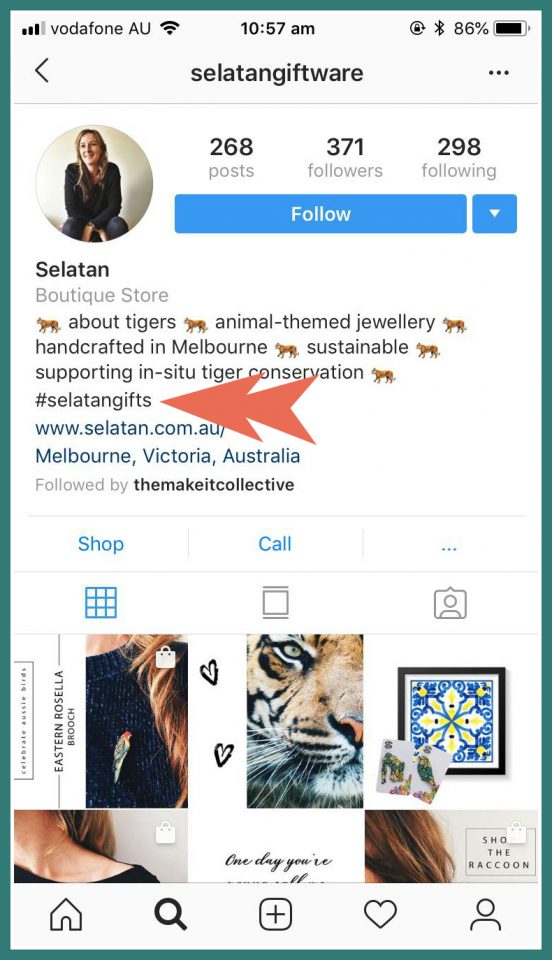 Build a Cohesive Feed
Creating an aesthetically cohesive Instagram feed is about as easy as singing the alphabet backwards – but it's not impossible. It takes time, planning and practise.
While it's a topic deserving of a weekend-long workshop, there's one thing you can do today to make a huge difference to your feed's appeal: choosing a theme.
Look at some of your favourite Instagram brands and analyse their feeds. Try to determine what look they're going for…
Dark/moody/blacks/greyscale
Feminine/girly/sweet/pastels
Glamourous/luxurious/golds
Colourful/vibrant/playful
Tropical/leafy/beachy
Naturals/earth tones
Minimalistic/clean
White/light/crisp
Boho/whimsical
Healthy/greens
Vintage/retro
To conceptualise your own theme, grab a bunch of old magazines and create a mood board featuring images and fonts that reflect your brand's style to help guide your product photography and create a unified look for your feed.
HOT TIP: Experiment with Instagram feed planner apps like Preview that allow you to plan, design and preview your feed before posting with a drop'n'drag builder. You can also schedule posts, save hashtag groups and easily regram (repost) other people's photos.
WARNING: Regramming other brands' pics is a controversial topic, as you'll see in the comments below. To avoid stepping on toes, always seek permission first and use reposting as an opportunity to reach out to other businesses and build relationships.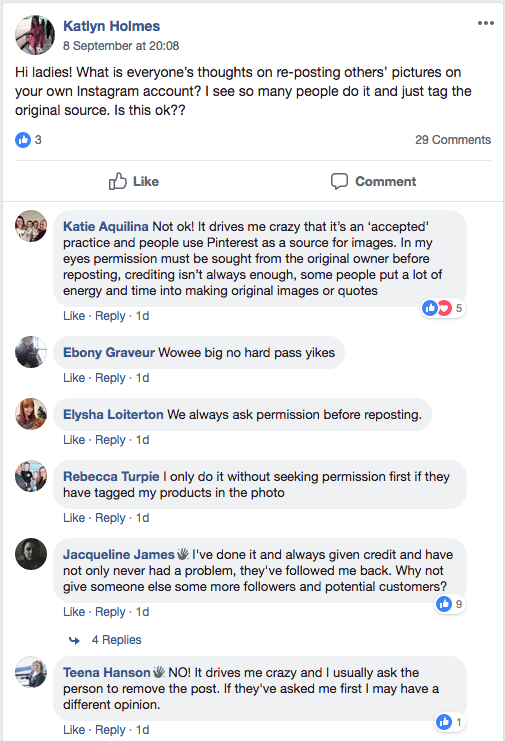 Optimise your captions
Instagram captions are the key to getting your content discovered. As Instagram marketing platform Later says, a good caption provides context, adds personality and inspires followers to take action.
Creating a simple call to action that invites users to interact with your post can boost engagement, so experiment to see which ones inspire the most likes, comments and tags from your audience.
Ask people to tag a friend in the comments:

"Tag a friend who'd rock this hot pink handmade blazer to work."

Create a poll using likes and comments as a voting mechanism:
Invite followers to caption a funny photo:
Create a fill-the-blank style post:

"If I had a $50 voucher for [Your Business Name], I'd spend it on_________."
Remember, links in post captions aren't clickable, so if you're serious about driving traffic back to your website or online shop, encourage people to click the link in your bio:
"Want to view the full Summer Essentials range? Click the link in our bio for more pics and prices!"
Add Geotags to Posts
Adding a Geotag or physical location to your posts increases brand visibility and helps new fans discover your content when searching by Place (or location) on Instagram.
Geotagging Shops
If you're selling handmade products wholesale or renting shop space, search to see if the store has a geotag on Instagram and apply this to your posts.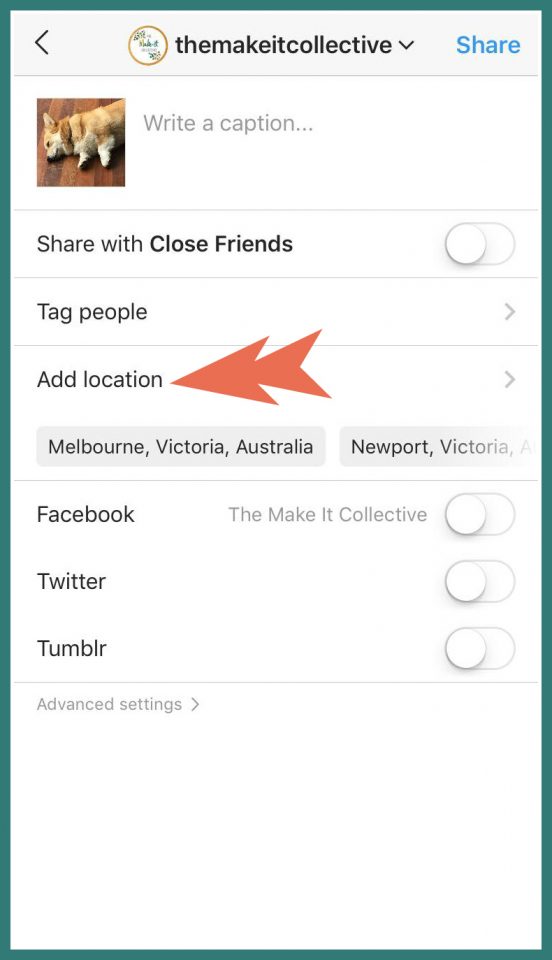 Geotagging Market Days & Community Events
If you're participating in a makers market or community event which doesn't have a dedicated Geotag, simply Geotag the event suburb to have your posts show up in the feed for anyone searching posts in that suburb.

Add Hashtags to Your Captions
In the same way Geotags allow users to search for content related to a particular location, hashtags work by organising and categorising content for users to easily find topics they're interested in.
If you've ever posted a pic with a tonne of hashtags that mysteriously disappeared, you may have exceeded the 30-tag limit. With this in mind, make the most of your 30 hashtags to ensure you're reaching as many qualified buyers as possible.
Let's use handmade jewellery brand Next Romance as an example…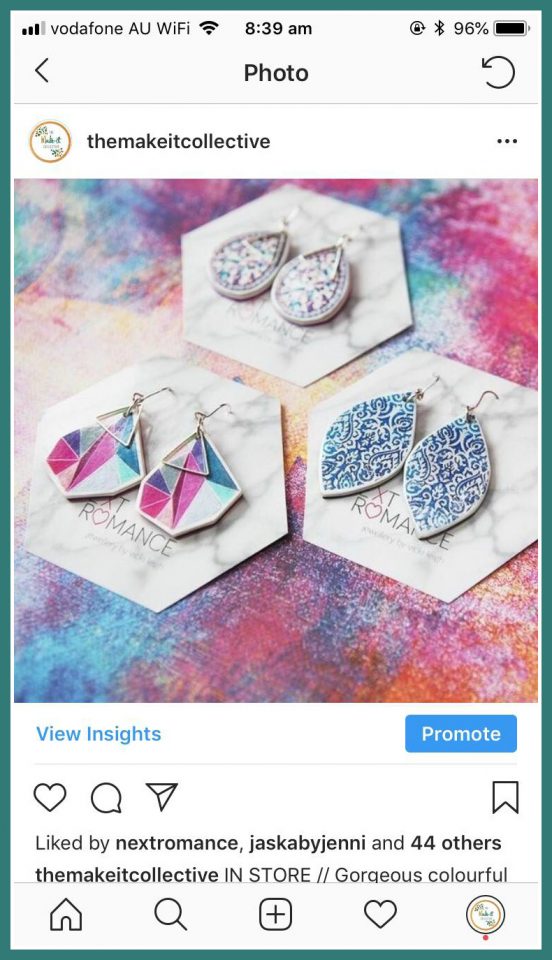 #handmadeearrings
#handmadejewellery
#handmadeaccessories
#ilovehandmade
#handmadeaustralia
#handmadegifts
#handmadewithlove
#handmadeinmelbourne
#melbournehandmade
#imadeit
#australianmaker
#buylocal
#lovelocal
#makersgonnamake
#northcote
#nextromancejewels (the unique brand hashtag)
It should also include The Make It Collective Geotag to let people know the earrings are available from the Northcote shop.
Remember, hashtags can include letters and numbers, but no non-numerical characters, like $, %, & or ?
Cross-Promote Your Account
Chances are you've got a Facebook Page, maybe even a Pinterest account, a Twitter feed or a YouTube channel. Every month or so, cross-promote your platforms and encourage Facebook fans to follow you on Instagram, and vice versa.
Other ways to promote your Instagram account include…
If you have a personal Instagram account, you can also tag your business profile in your bio to encourage people to follow your brand account, like watercolour artist @art_by_meaks has done.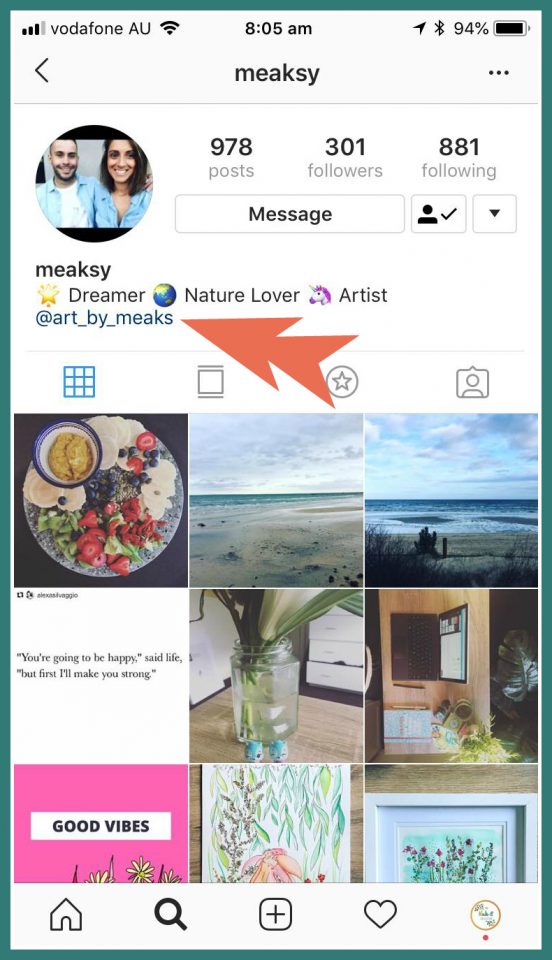 Team Up With Other Makers
Collaborating with other Makers is a great way to organically get your brand in front of new handmade buyers that don't know you exist.
If you're an ethical clothing brand, team up with a handmade accessories designer for a fashion shoot that features both your products. If you're a handmade homewares brand, team up with a plants and terrariums brand to stage some lifestyle shots.
When posting the images on Instagram, tag the other brand in the pictures and the comments and include a call to action to visit their account, which of course they will do in return.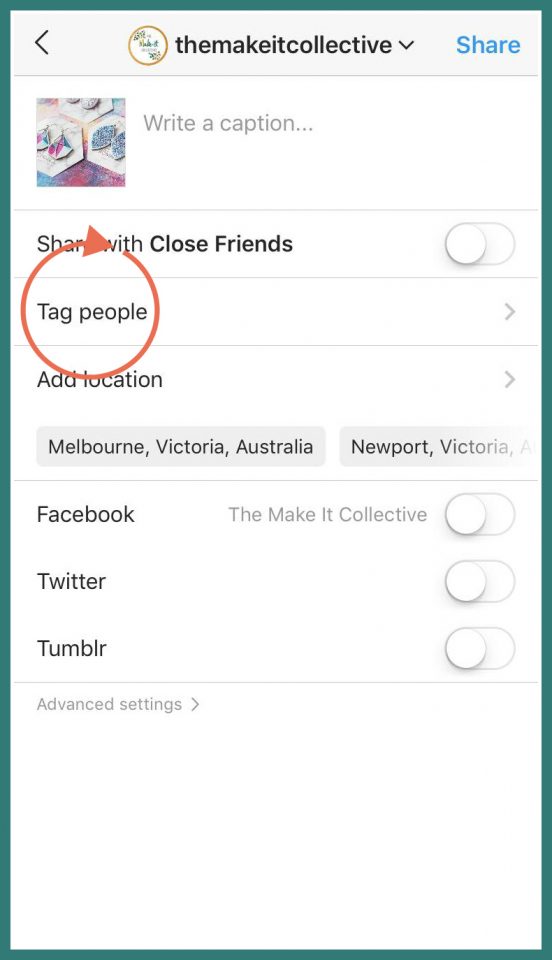 Seek Feedback From Followers
People LOVE giving their opinion – it makes them feel validated. Involving your followers in conversations around new product designs, alternate colours or extra features not only increases your Instagram engagement, but also gives fans a sense of ownership and encourages them to check back with your account to see the fruits of their feedback.
Ensure Push Notifications are active to receive a message when someone comments on your posts so you can respond quickly – don't leave people hanging or they won't bother responding in future.
Try a Giveaway
Running an Instagram giveaway increases your brand awareness and grows your following. A simple strategy involves posting a photo of the product you're giving away and asking users to do the following for their chance to win:
Repost your picture to their account
Tag your business in their photo
Use your brand hashtag in their post description
Asking users to include your brand hashtag makes it easy to find entries and select a winner by simply searching for your hashtag under "Tags".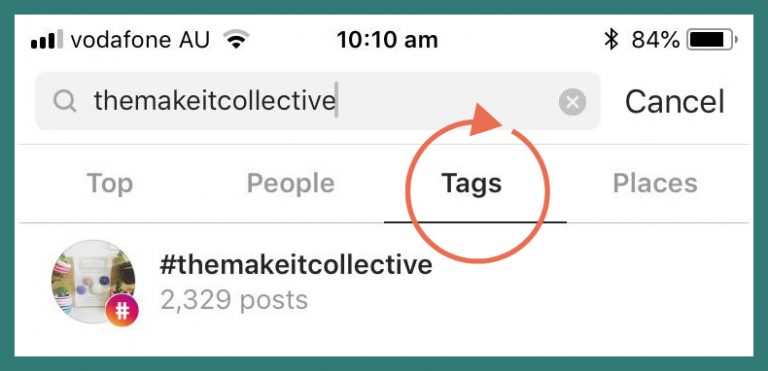 Before launching your giveaway refer to Instagram's Promotion Guidelines to ensure you're meeting all the requirements and include any necessary disclaimers in your post description.
Want More Instagram for Handmade Brands Tips?
We've got a great lineup of social media marketing tips for handmade brands planned, but if you've got burning questions about Instagram for business (or any other platforms), let us know over in The Make It Collective Community on Facebook and we'll do our best to answer your questions in our next blog post.
---
Does this post need updating? We do our best to keep content up to date, but if something has changed and this post needs updating, please get in touch and let us know.