Thank you for your interest in hiring popup space in our Melbourne shop at 264 High St, Northcote.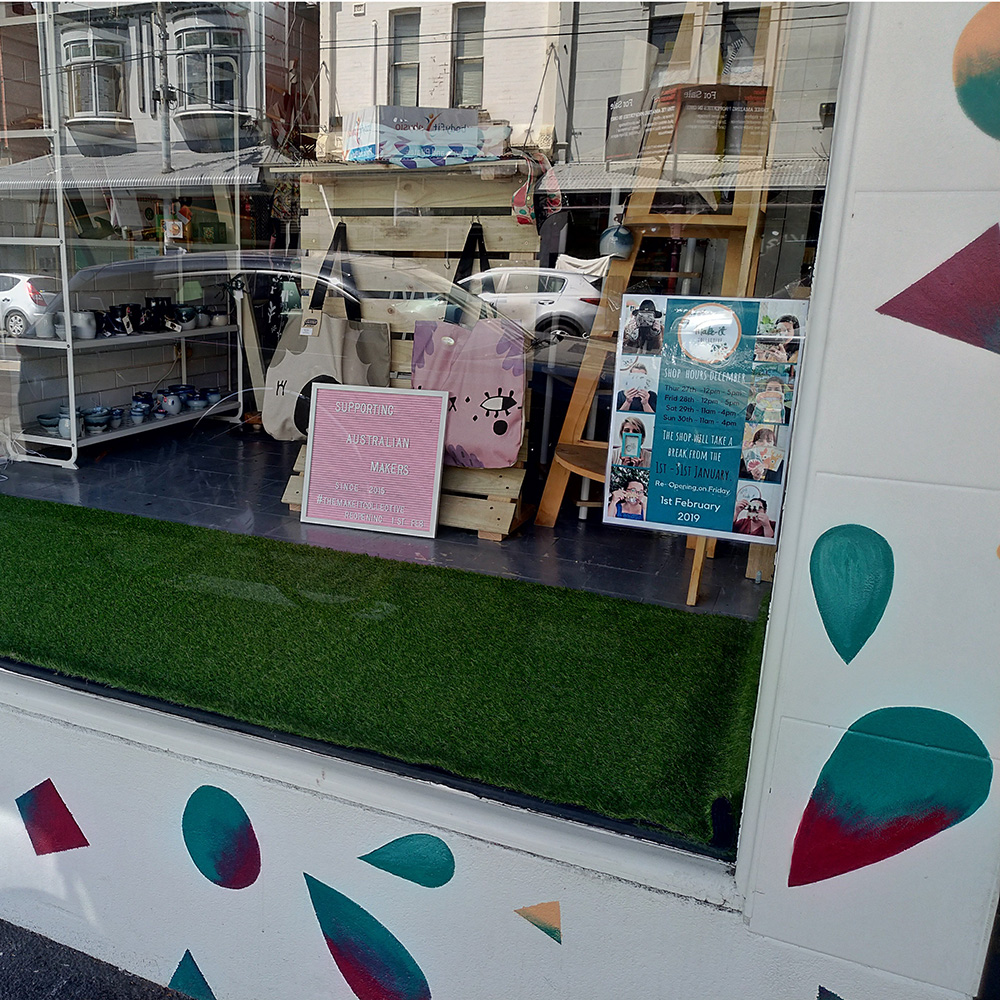 Availability
The Popup Space is available to book for a minimum 1-month period, with longer bookings available upon request. Bookings are taken from February to October, allowing a total of 9 bookings per year. Bookings begin on the first Wednesday of each month, and end on the last Sunday of each month.
For security reasons, the Popup Shop is subject to the opening hours of The Make It Collective Shop, which are subject to change at any time. We will provide you with current opening hours, along with any seasonal changes to these hours scheduled to occur during your booking, at the time of your application.
Pricing (Individual & Shared Hire Costs)
> Individual designer = $900 for 4 weeks
> 2 x designers = $750 each for 4 weeks
> 3 x designers = $600 each for 4 weeks
NO commission is removed from sales. All sales are processed through our checkout and packaging is included. Simply set up and leave everything to us! You will receive 1.5 days free prior to your start date for setting up, and 1 day free post-booking to pack up.
Inclusions
> Full use of our Popup room for 4 weeks
> Full use of shop front window for 4 weeks to display your products (2.7m x .8m)
> Packaging for product sales
> Experienced and friendly retail staff to take sales
> Launch party at The Make It Collective Shop
> Convenient location amongst Northcote's best cafes and restaurants, walking distance from Northcote Train Station and trams.
Popup Space Dimensions
Room dimensions are 3.8m x 2.8m
Popup Space Props & Display
3 x plinths available for use:
> Large: 40cmD x 40cmW x 80cmH
> Medium: 32.5cmD x 32.5cmW x 65cmH
> Small: 25cmD x 25cmW x 50cmH
There are picture rails with hooks (these must be used for hanging items). Please bring your own hanging wire. Other display shelves and clothing racks also available, including 1 x A2 display stand (poster not provided).
Marketing & Advertising
> Popup announcement on The Make It Collective's Facebook Page (2,900+ followers), Community Group (185+ members) and Instagram account (5,500+ followers).
> A feature in The Make It Collective's newsletters to both Makers and Buyers (1,800+ subscribers).
> An A4 poster in the shop window.
> An A4 poster on the shop's A-frame footpath sign.
> Shared hosting of a Facebook Event Page for increased reach
Launch Party
Launch nights are held Thursday evenings from 6pm -9pm. This includes one staff member to take sales for the evening. Food packages are also available at an additional cost – please enquire for details.
Limited Popup Vacancies Available
We only have 9 positions available per year between February – October. First preference is given to Australian designers who have their products made in Australia. Other Australian designers will be considered if their products are proven to be ethically made.