Your Monthly Bulletin of Handmade Marketing Tips, Industry News & Creative Inspiration For Aussie Makers

September Social Media Calendar
Events for creating social media posts, timely offers & themed email marketing that celebrates your unique handmade gifts.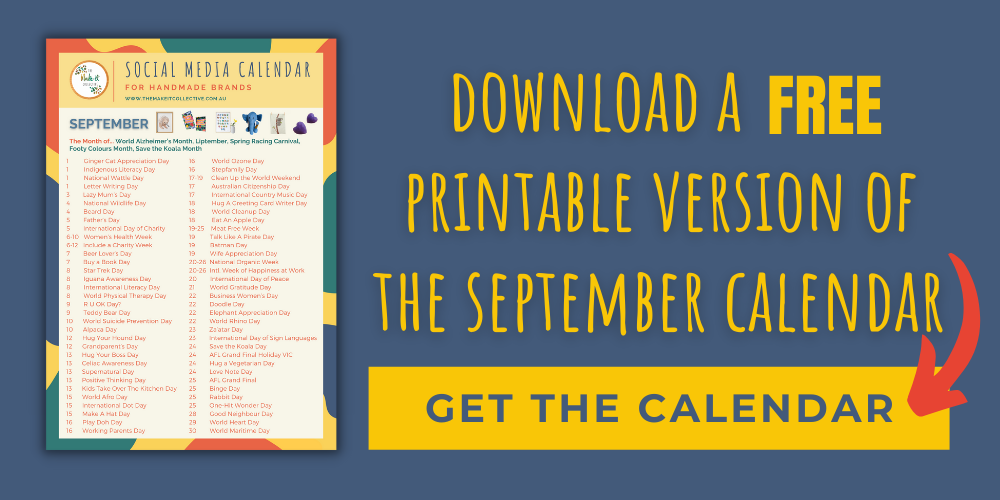 ---
Small Business Digital Adaptation Program
The Small Business Digital Adaptation Program provides $1200 rebates for sole trader, micro businesses and small businesses to access a range of digital business tools.
The Victorian Government has partnered with 14 suppliers to help you build or upgrade your website, improve your cash flow, start online marketing, manage your jobs and projects, and keep better track of stock.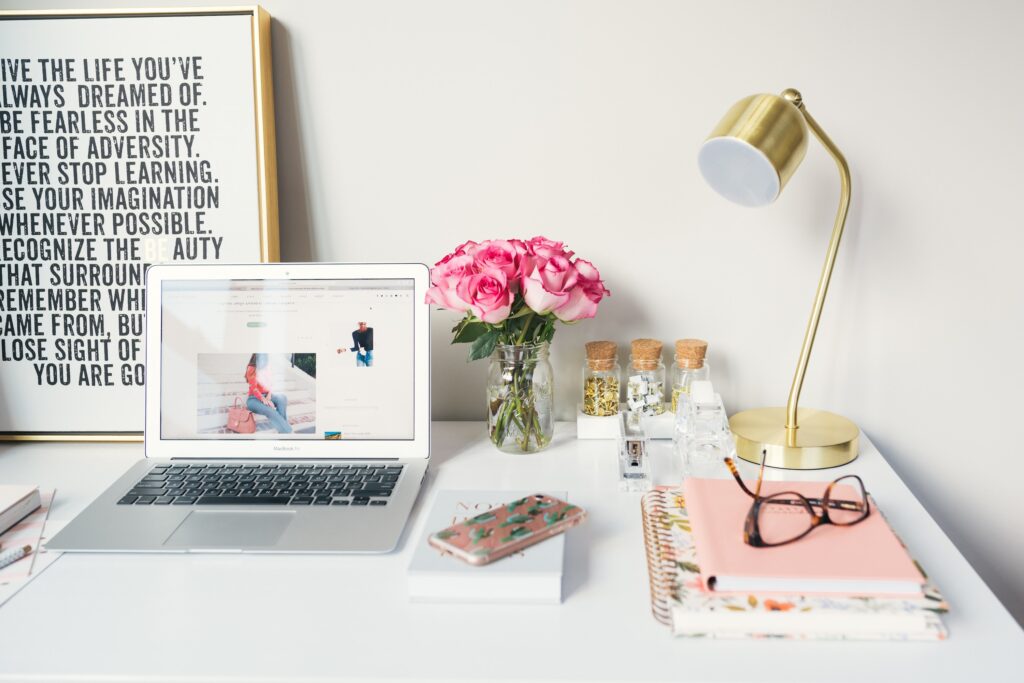 Here's how it works:
– take free product trials and workshops
– choose one or more of the digital products (including Shopify & Squarespace)
– purchase your product and start using it
– apply for the rebate to cover up to 12 months access
– claim your $1200
---
Artists Studio Program – Brighton's Billilla Mansion
Bayside City Council's Artist Studio Program supports artists from diverse practices and across career stages. Located in Brighton, the program provides an opportunity for artists across Victoria to connect with local communities through public programs as well as develop their practice without the financial pressure of paying studio rent. Applications are now open and close 27 September 2021.
---
Experimental Print Prize: Celebrating Innovation in Victorian Print Making
There is a strong tradition of printmaking in Victoria and the Experimental Print Prize seeks to foster new directions in the field through both the exhibition of shortlisted artists and awarding of prizes. Entries are invited from artists across Victoria using innovative approaches to traditional printmaking processes such as intaglio, relief, planographic, digital processes and photography (if included within the printmaking process). Entries close 26 September 2021. Learn more & apply.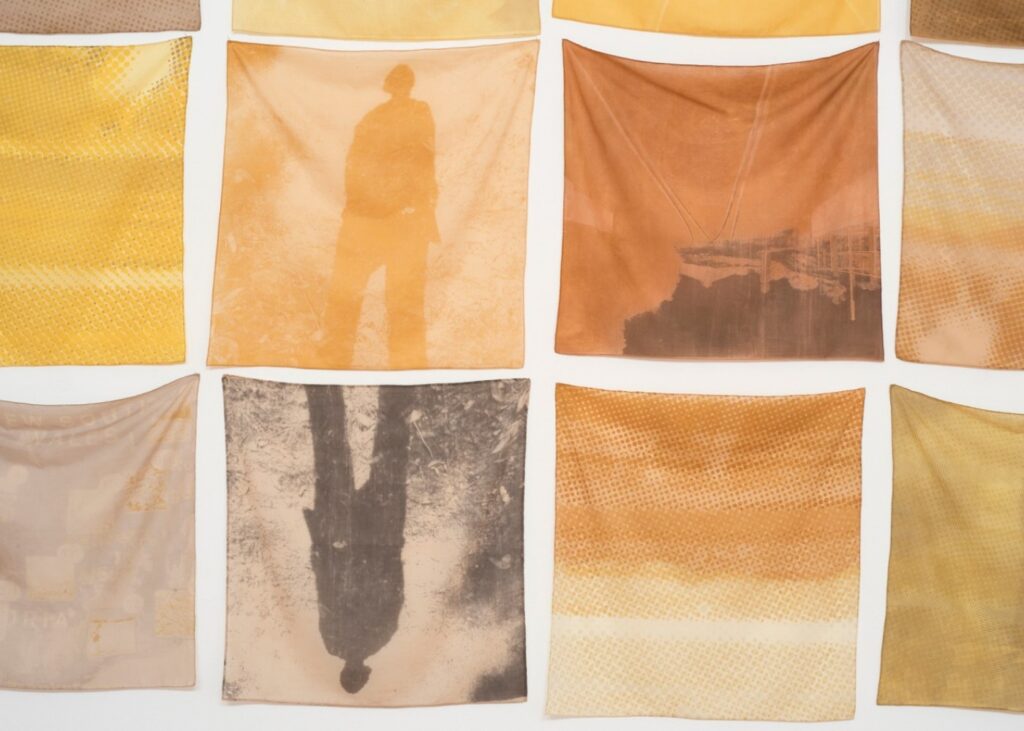 ---
Winesmiths Sacrifice Nothing Grant
The vegan-friendly Aussie winemakers at Winesmiths are celebrating artists with uncompromised visions and dedication to their craft. The 'Sacrifice Nothing' Grant is a $5,000 grant for one Australian artist who pours everything into their craft. Applications close 20 September 2021. Learn more & apply.
---
Place Unframed: An Open Exhibition on A3 Paper
Artists are being invited from throughout Australia to investigate their concept of 'place'; a position, a location, a destination, a point in time or where you sit within the world. Embrace your imagination with a sense of play, boldness, experimentation, thoughtfulness or contemplation. Entries close November 1, 2021. Learn more & apply.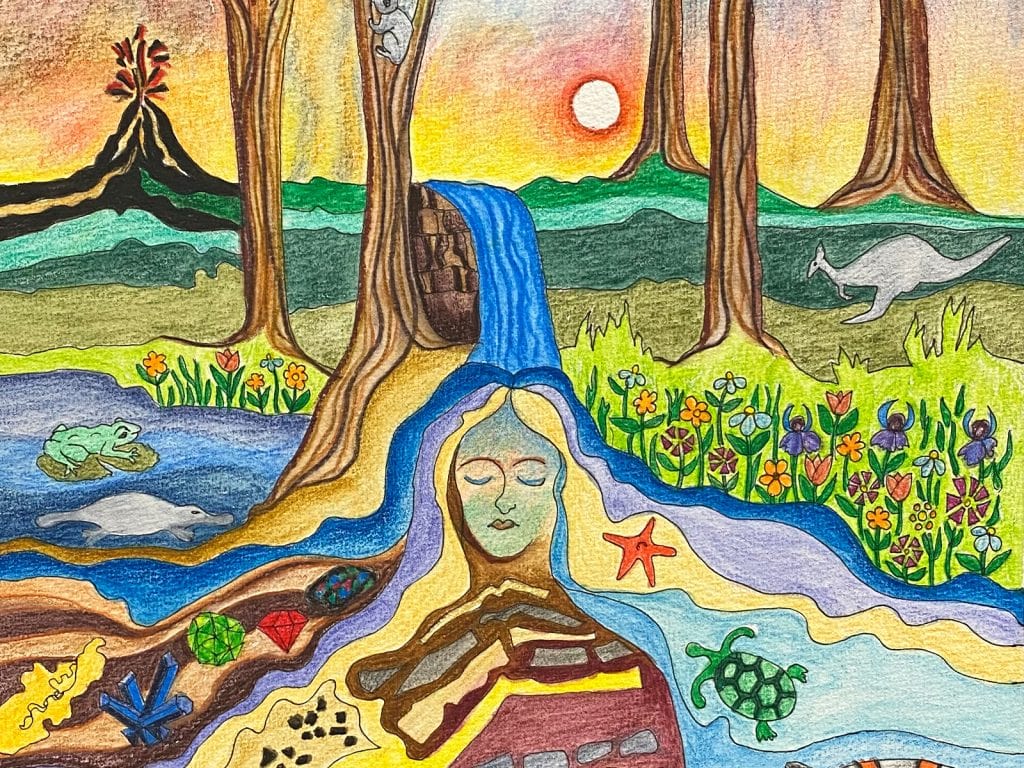 ---
FREE Test Print for Artpreneurs
PosterFactory are giving artpreneurs a FREE A3 WALL ART 250 Test Print to demonstrate the quality of their printing – just pay for shipping.
They dropship for many successful online stores, which is available to customers at no extra cost. When you nominate Dropshipping during checkout, they ship your work direct to your customer without branding and you automatically receive tracking details. The parcel is insured just in case the work arrives damaged – you just send them a photo of the parcel and the damaged print and a new print will be sent at no cost to you.
For makers with regular daily/weekly order, they offer rebates or discounts and can also include a thank you card and customised stickers on the box.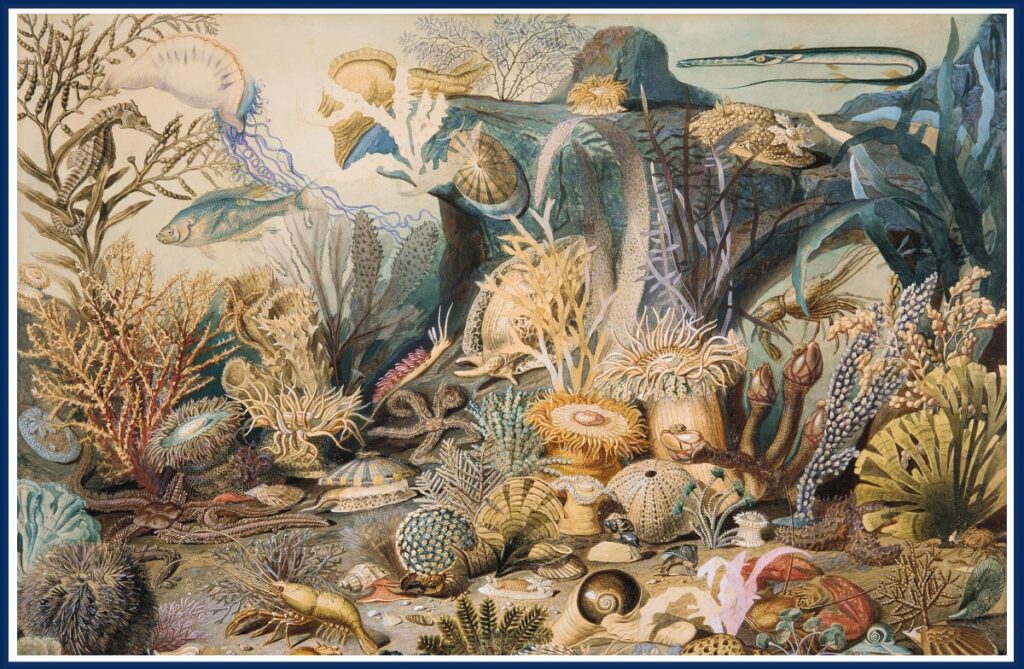 ---
Free Background Remover Tool for Desktop
Removing backgrounds from photos used to be a tedious process only graphic designers could do. With remove.bg, anyone can extract subjects in just 5 seconds using their easy drop and drag desktop software 100% automatically.
Get 50 free preview images (smaller file size, but still useful) on the free version every month, or purchase pay-as-you-go credits to download high resolution versions for more important use.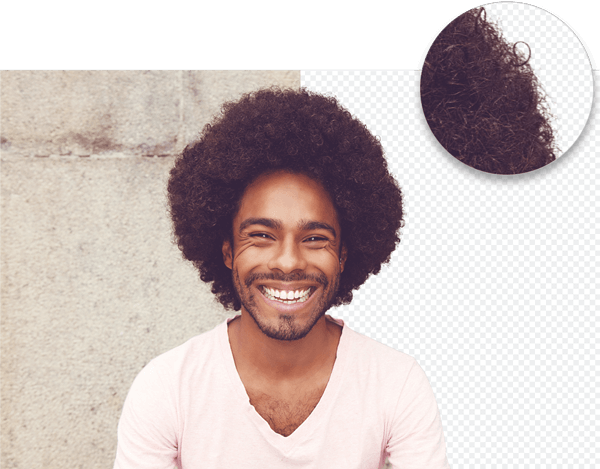 ---
How to Lock Design Elements in Canva
How many times have you accidentally moved an element in your design while attempting to move something else? Talk about tearing your hair out. Canva's Lock Feature is here to save the day! You can now easily select, move and duplicate elements, without others getting stuck in the way.
Canva is an easy to use online design platform that allows even the most technically challenged to create beautiful social media graphics, presentations, posters, documents, logos and other visual content using design templates. Start creating with the free version!
---
Getting Your Art Noticed Online
Creative Victoria has teamed up with ArtsHub to create a video series that helps artists understand digital fundamentals to take their work to a wider audience. This week we look at Video 2: How to get your art noticed online, including how to promote your brand, the benefits of different social media platforms, the basics of the Google algorithm and how to create content for it.
Timestamps:
00:32 – Promote your brand name
01:17 – Using social media
02:40 – The benefits of multi-platform posting
03:39 – Social media marketing
04:50 – The basics of google algorithms
05:51 – Basic search engine optimisation
06:42 – Keyword research
07:58 – E-newsletters
08:51 – Cross-promotion with other artists
---
Handmade Ryan Gosling
If you don't have half an hour to mindlessly browse Handmade Ryan Gosling Memes, look away now. There's an entire Tumblr blog dedicated to this emotionally supportive, patient and helpful fantasy man, who really doesn't mind if he can't hear the TV over your sewing machine. And that, my friends, is true love.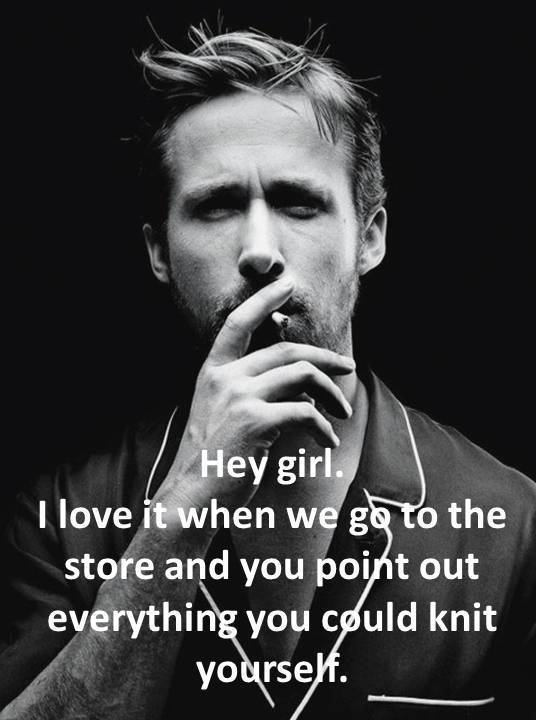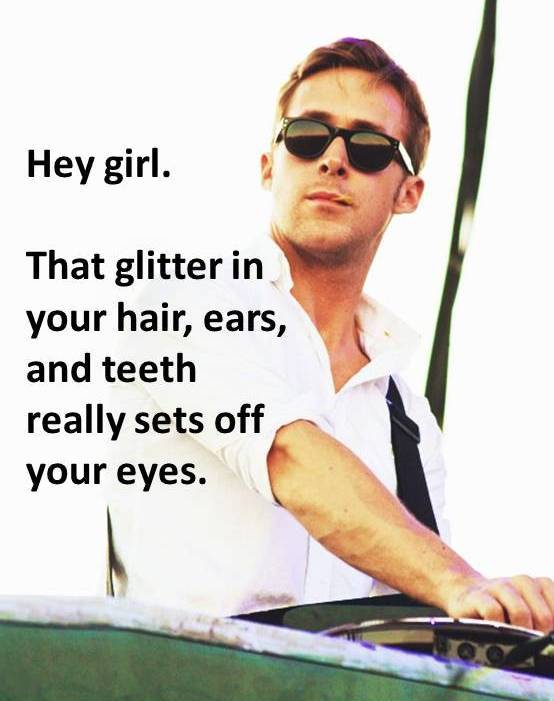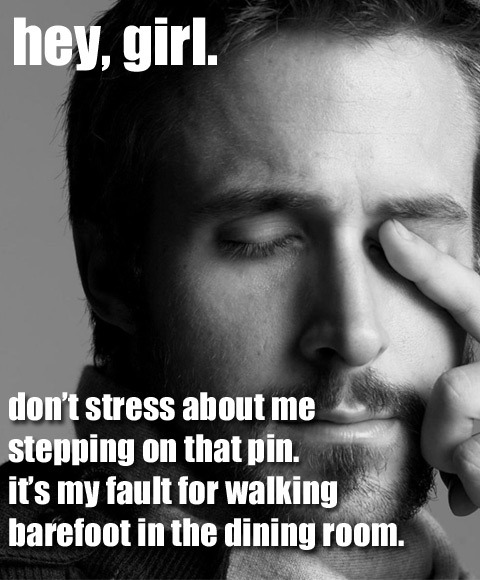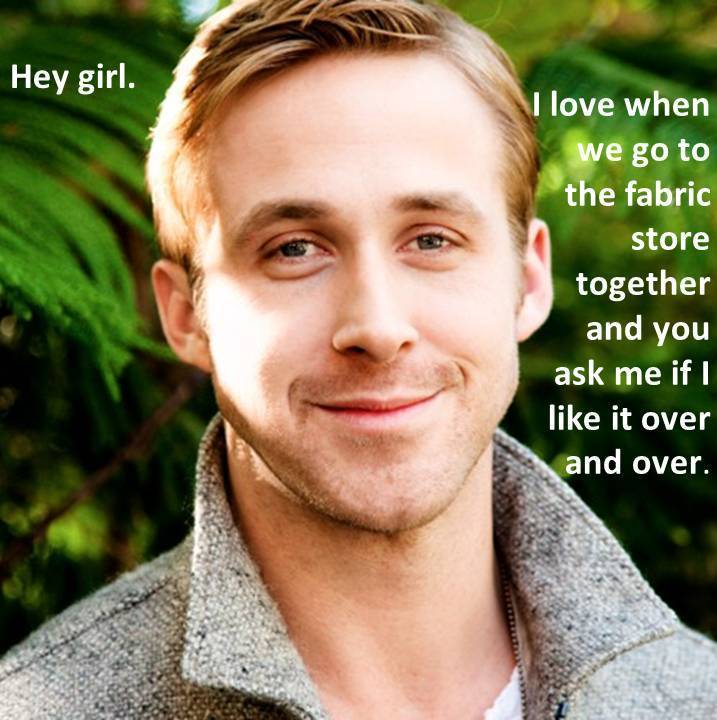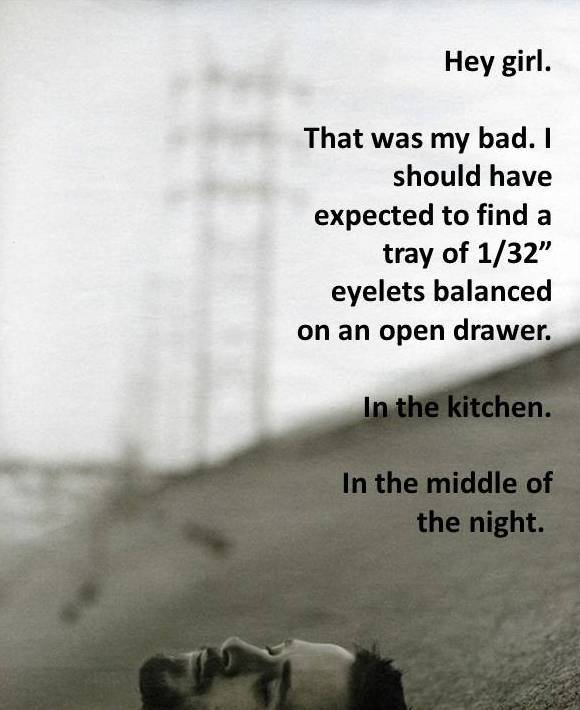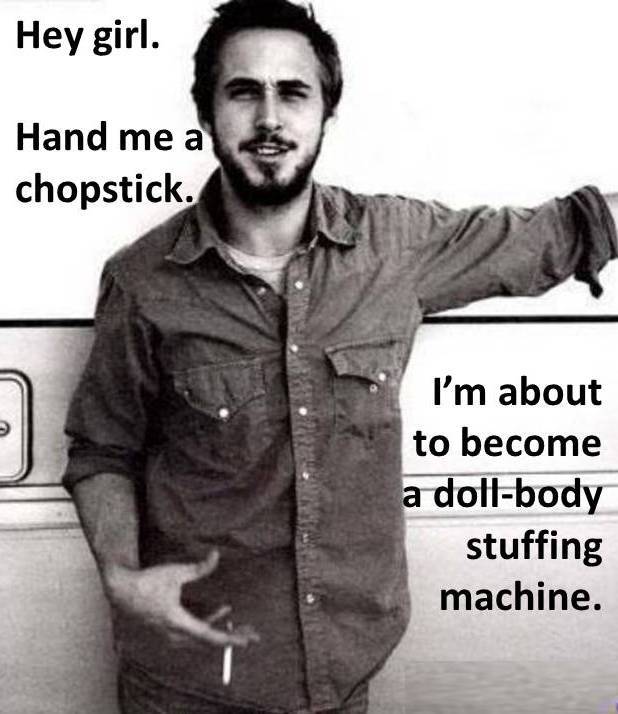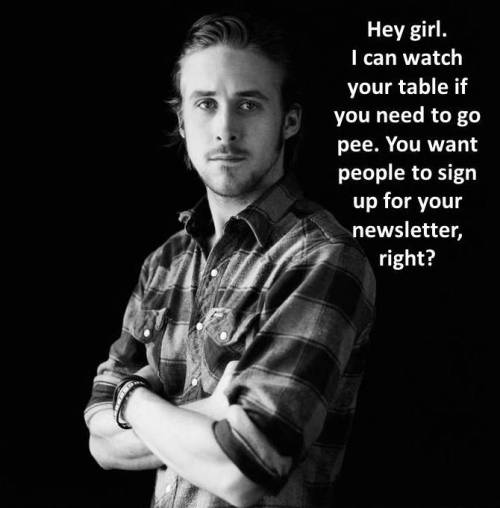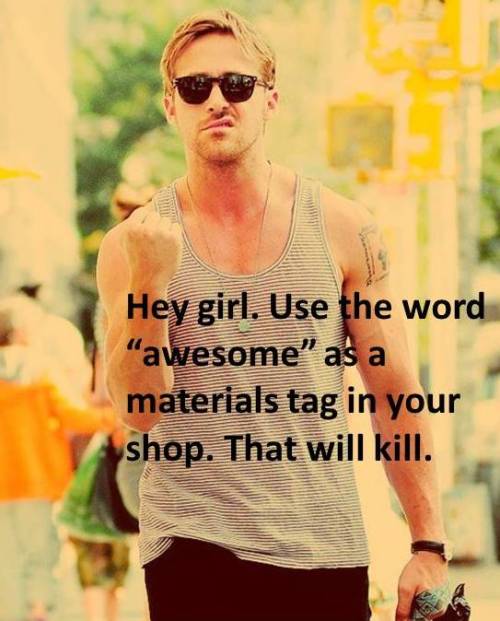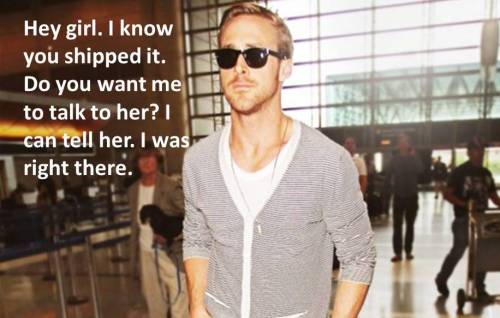 ---
Psychological Tip For Increasing Sales
Sample packs can help get consumers invested in a product by taking a small, more affordable initial step, which makes them more likely to buy again in future. This works well for tea light candle sample packs featuring an assortment of scents from larger handmade candles, as well as smaller, sample-sized soaps and handmade beauty products designed to introduce buyers to new scents and encourage future purchases.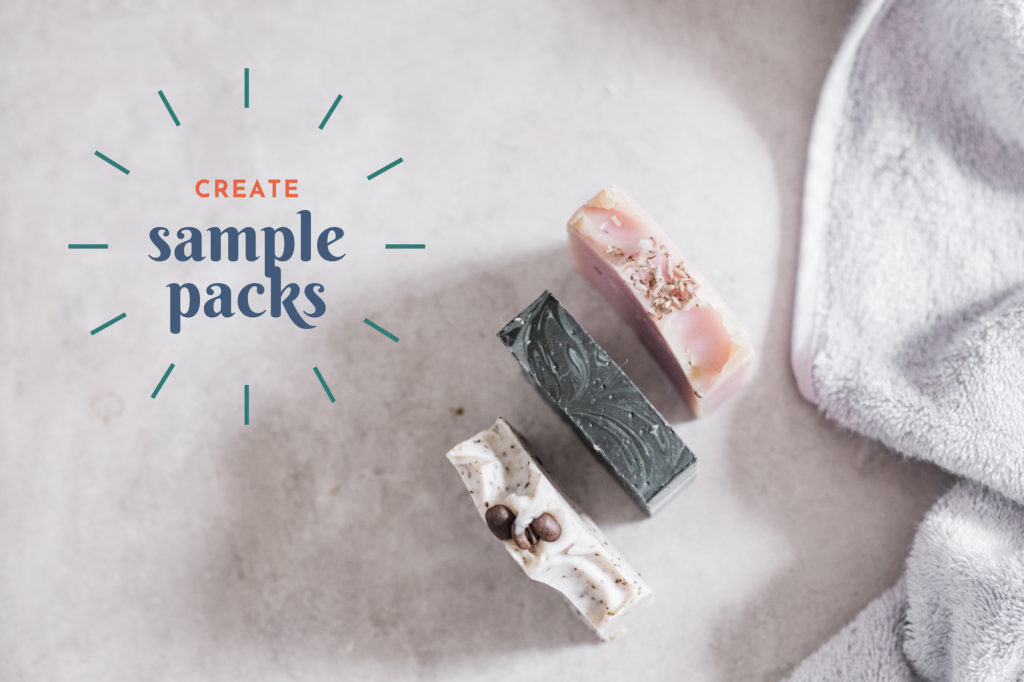 ---
Making the Most of Your Marketplace Shop
If your products are only showing up under their subcategory, they won't appear when buyers click on the primary category. For example, if you sell handmade Earrings, make sure you select the Jewellery category as well when setting up your products. Login to your shop and check your product settings now to ensure your products are showing up in as many places as possible!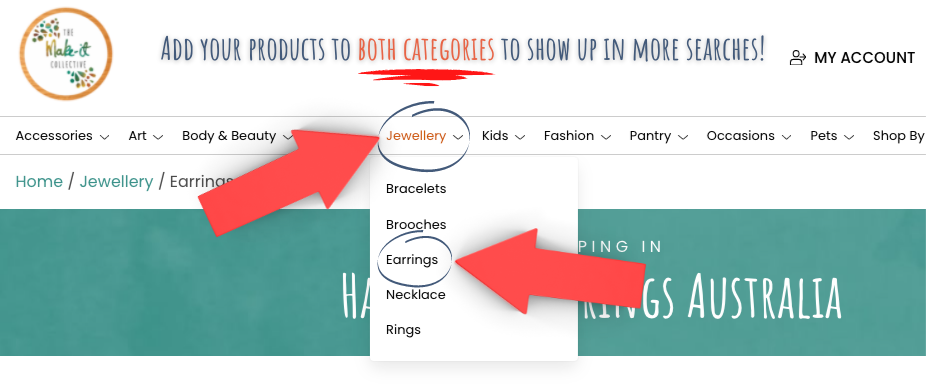 ---
Quote of the Month – Procrastination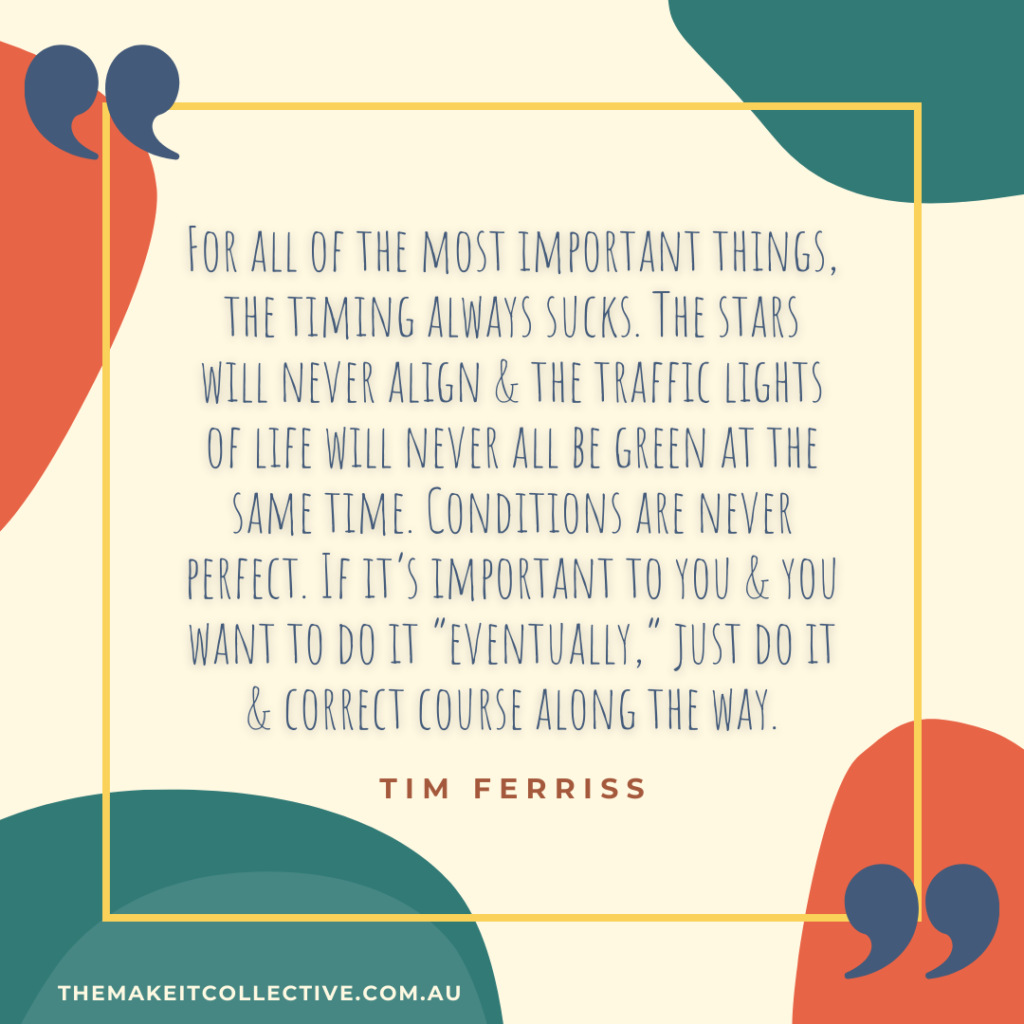 ---
Just For Fun ~ Natural Dyeing Tips for Beginners
Natural dyeing is a fun, experimental way to reinvent old wardrobe favourites and reconnect with nature in the process. This beginner's guide from Studio Tinta – a natural dye studio in Melbourne creating sustainable textiles using botanical dyes and natural fibres – is designed as an introduction to how natural dyes work and how you can make them at home from pantry items, kitchen scraps and garden plants.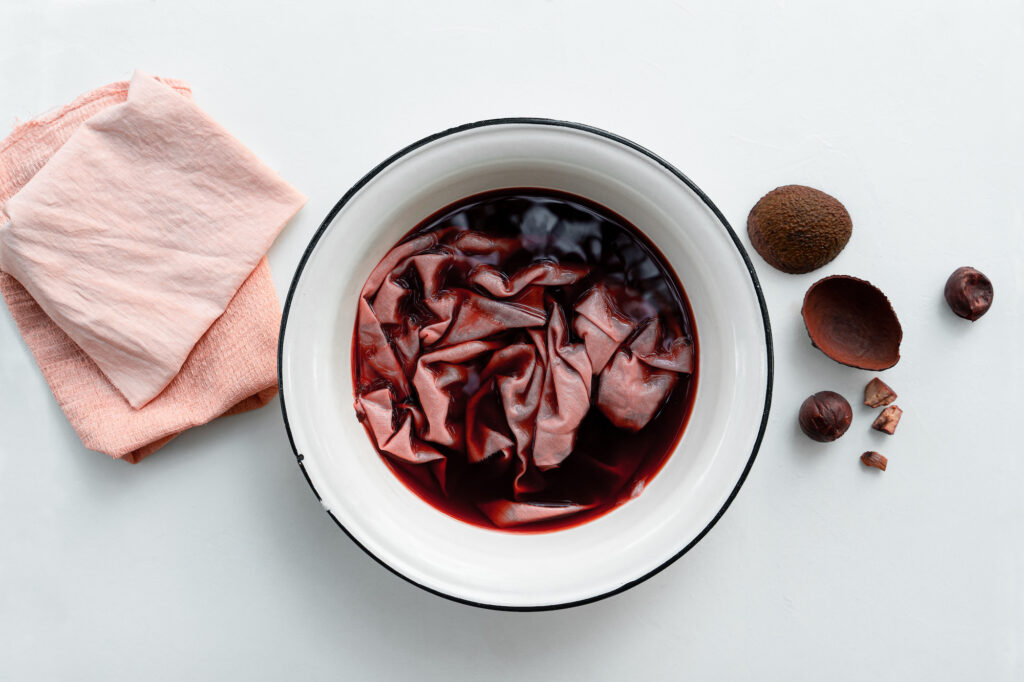 ---
Read More Maker Mail…
– August 2021 ~ Social media Calendar, Opportunity for Sustainable & Ethical Fashion Makers, Free Legal Advice, How to Create Curved Text in Canva, Essential Mac Shortcuts for Creatives, How to Get Your Art Online
– July 2021 ~ Social Media Calendar, Canva Tidy Up Tool, Maker Meme, Optimising Your Newsletter Sign Up Form, Psychological Tip For Increasing Sales, Free Photography App, Creative Quote
– June 2021 ~ Social media Calendar, The Cult of Done, Free Email Signature Generator, How to Create a Fillable PDF in Canva, Quote of the Month, 100+ Drawing Ideas
Get Maker Mail in your inbox every month!
---