Your Monthly Bulletin of Marketing Tips, Industry News & Creative Inspiration For Australian Handmade Businesses

June Social Media Calendar
Events for creating social media posts, timely offers & themed email marketing that celebrates your unique handmade gifts…
May 27 – June 3, National Reconciliation Week
June 1, First Day of Winter
June 1, World Milk Day
June 1, Global Day of Parents
June 2, Leave The Office Early Day
June 3, Mabo Day
June 3, World Bicycle Day
June 4, Hug Your Cat Day
June 4, National Cheese Day (US)
June 4, National Donut Day (US)
June 5, World Environment Day
June 8, World Oceans Day
June 8, Best Friends Day
June 9, Rosé Day
June 11, Yarn Bombing Day
June 12, World Gin Day
June 13, Sewing Machine Day
June 14, World Blood Donor Day
June 14, Queen's Birthday Public Holiday in NSW, VIC, SA, TAS
June 14-20, Men's Health Week
June 16, World Tapas Day
June 16, World Sea Turtle Day
June 18, International Picnic Day
June 18, International Sushi Day
June 19, International Surfing Day
June 19, Martini Day
June 20, World Refugee Day
June 20, June Solstice
June 21, National Selfie Day
June 21, World Music Day
June 21, International Yoga Day
June 22, World Rainforest Day
June 25, Take Your Dog to Work Day
June 27, National Sunglasses Day
June 27, Pineapple Day
June 29, International Day of the Tropics
June 30, Social Media Day
June 30, End of Financial Year
---
City of Melbourne's 2022 Arts Grants
Applications are open for City of Melbourne's annual 2022 arts grants. Whether you paint, sculpt, knit, sew or make work unlike anything else, grants of up to $20,000 are available to make your handmade project happen! Applications close 15 June 2021. Learn more.
---
Victorian Craft Awards
The Victorian Craft Awards welcome applications of individual works and installations utilising craft skills, processes and materials, and are open to emerging, mid-career and established craftspeople from across Victoria. A panel of art sector professionals will select up to 50 finalists to be exhibited in the Victorian Craft Awards exhibition in Melbourne from 18 September to 13 November 2021. Applications close Sunday 18 July 2021. View prizes and apply.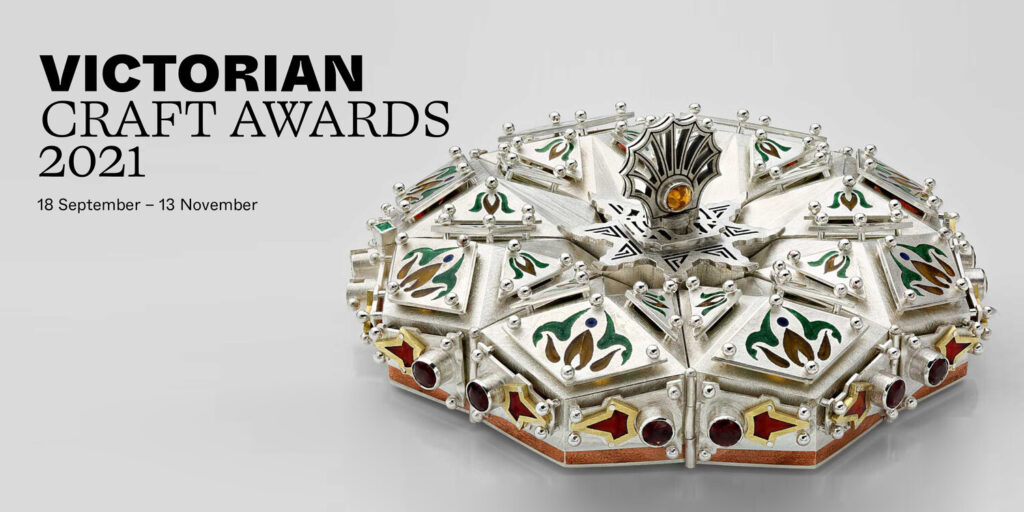 ---
Artist Callout
Craft Contemporary is a festival celebrating vibrant approaches and experimentation by today's makers. The festival includes exhibitions, workshops, seminars and events across Victoria and online exploring how craft is evolving in the 21st century across objects, handmade jewellery, furniture and contemporary art. The festival welcomes submissions from makers and artists, guilds, galleries, businesses, venues, publications and creative producers. Submit your applications by Sunday June 27th for the Craft Contemporary Satellite, Makers In Residence or Virtual Open Studios.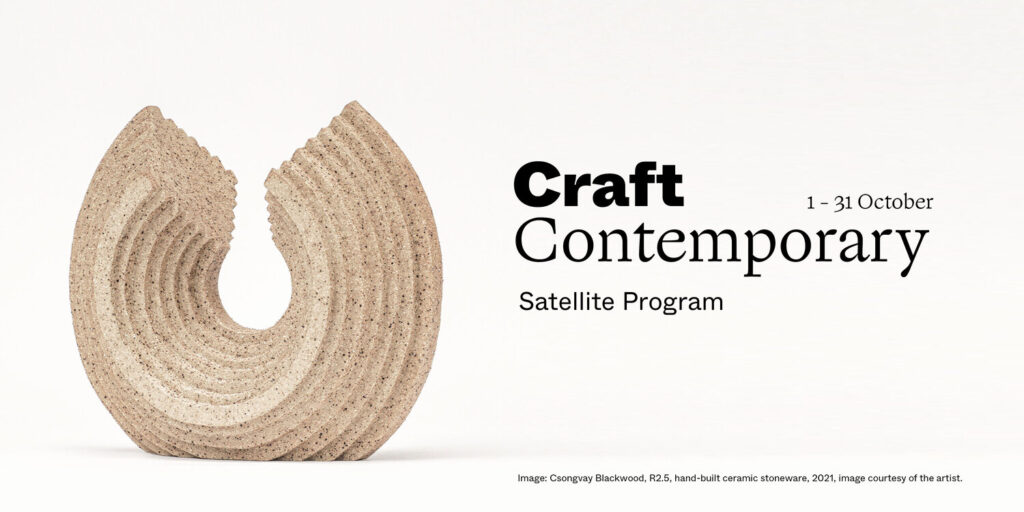 ---
Get Shit Done
In 2009, Bre Pettis and Kio Stark wrote The Cult of Done Manifesto below on a laptop from their bed. They wrote it in 20 minutes, because they only gave themselves 20 minutes. Let that sink in. If this manifesto resonates with you, recreate it with your very own illustration or wall art print thanks to its Creative Commons licence – just remember to attribute Bre & Kio.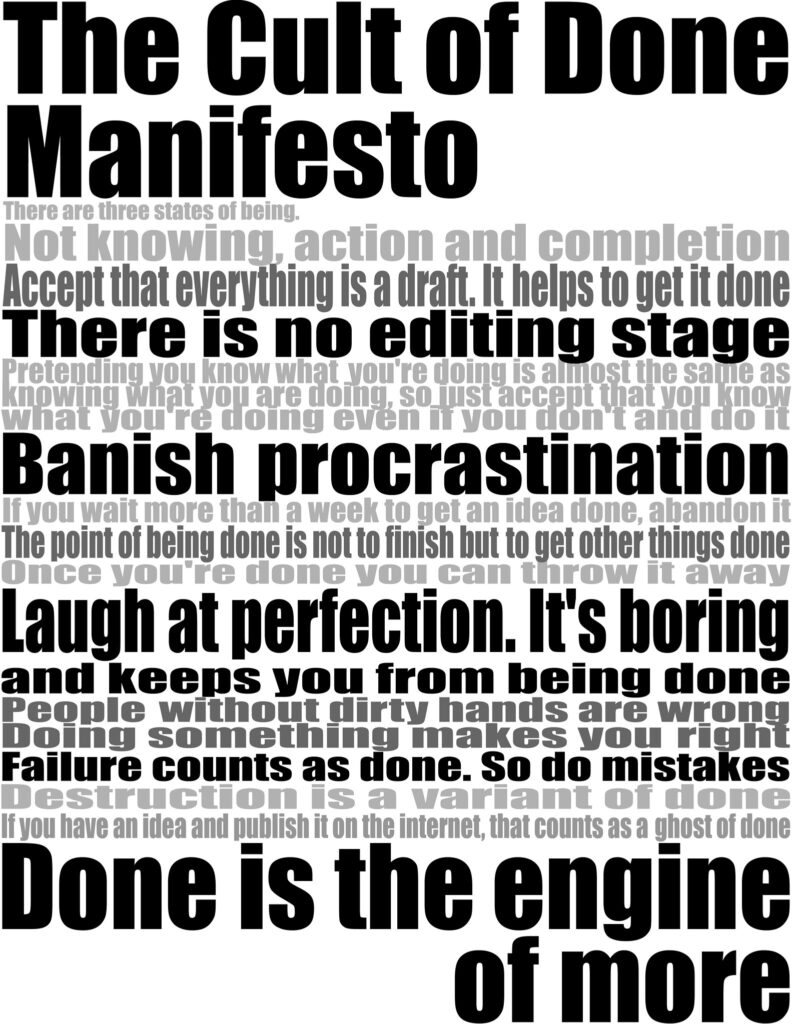 ---
Optimise Your Marketplace Listing
If you have an online shop in our Handmade Marketplace, make sure you've uploaded a Banner Pic to replace the default image of a gift. You can use a product photo, or create a collage in Canva to feature multiple products. The ideal Banner size is 1045 x 390 pixels.
Make sure you've also added a keyword-rich Biography about yourself and your products to improve your shop's ranking in search results, and remember to tell customers where you're based!

---
Update Your Ugly Email Signature
Make the most of the prime real estate in your emails with a beautifully branded, easily installed email signature from MySignature, featuring your social media links, a call to action and a banner graphic showcasing your latest offer. For full customisation you'll need the paid version at $5USDp/mth, but have a play with the free version first – view the Email Signature Examples, select a template and start editing!
---
How To Create a Fillable PDF Lead Magnet with Canva
Fillable PDFs make excellent lead magnets for attracting more email subscribers – think goal planners, calendars, checklists and worksheets. They're also low-cost, high-converting items ideal for illustrators and artists to sell on The Make It Collective Marketplace – design one, sell hundreds… Hello, passive income! 👌🏽😉
---
Quote of the Month
Save me, Pin me, share me and inspire your followers & fellow creatives to get a jiggle on!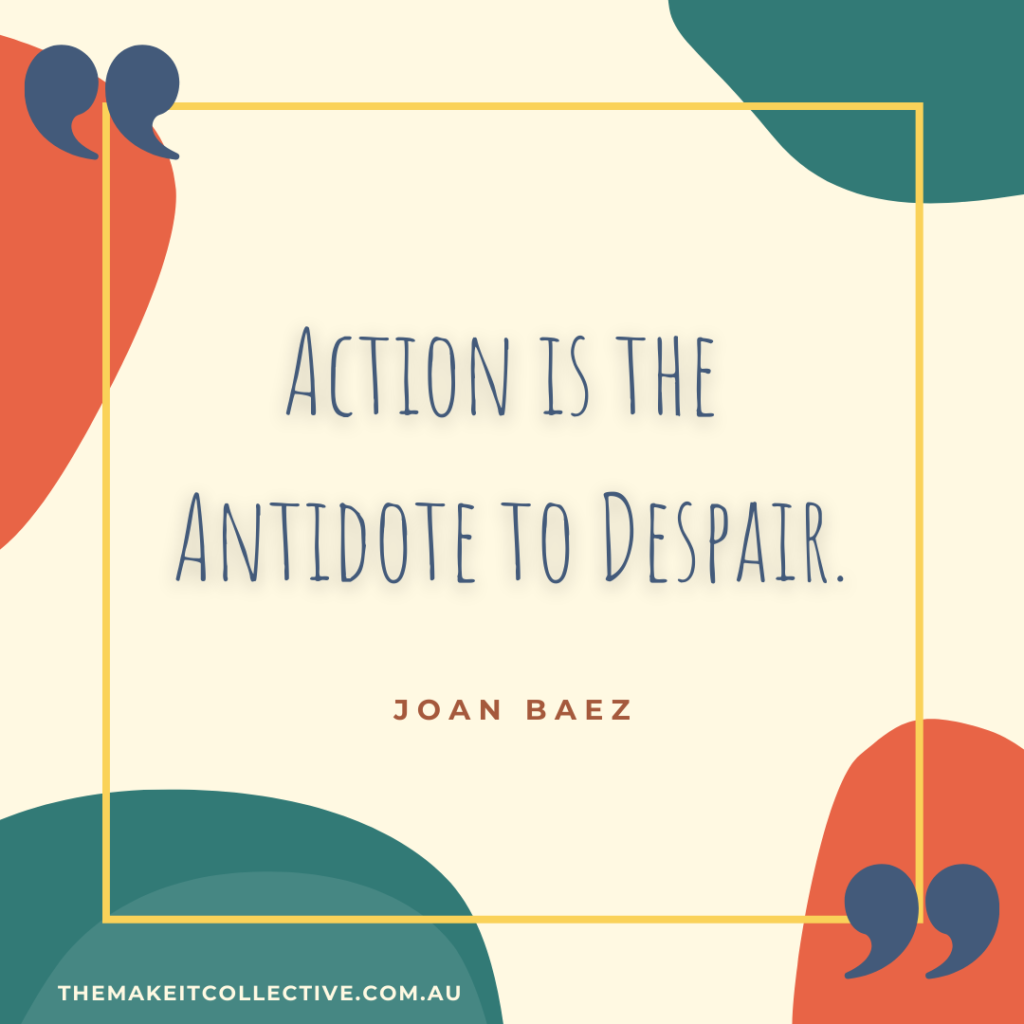 ---
Just For Fun
Practice is essential for finessing your drawing skills. Mastering the basics and repeating them over and over again really is the best way to improve. Get practicing with these 100+ Drawing Ideas That Will Get You Sketching Right Now.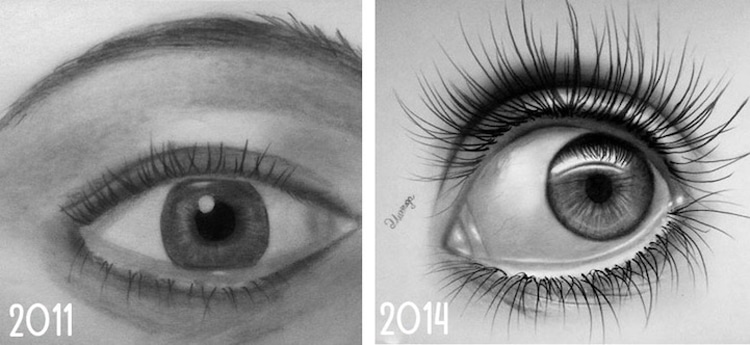 ---
If there's one thing you do today…
"Ask a customer for a testimonial – testimonials are good. Video testimonials are next-level. They up your credibility and boost buyer confidence." ~ Blake Emal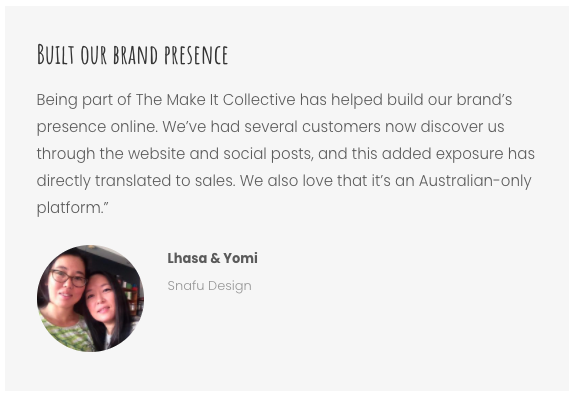 ---
Get Maker Mail in your inbox every month for free!