MEET THE MAKER
Kate and Rose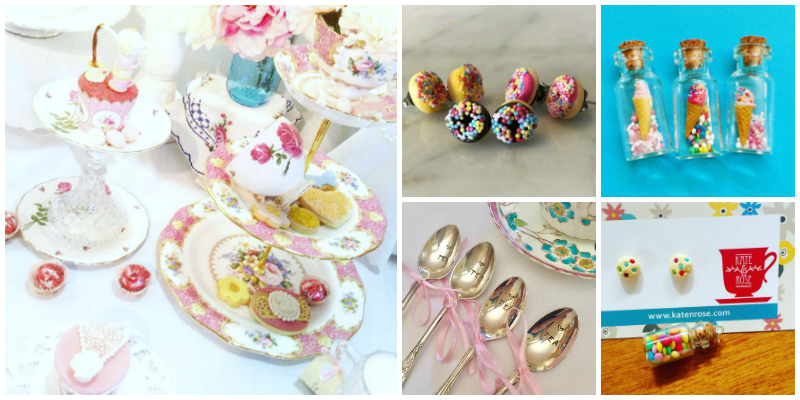 Hi Suzanne, tell us a little about Kate and Rose…
Kate and Rose has a mix of vintage and upcycled products, including kawaii inspired jewellery and a new High Tea themed collection, which has vintage plates upcycled into cake stands, and soy candles set in vintage teacups, apothecary jars and other recycled containers.
There is a great range of new tea party and foodie inspired jewellery – from polymer clay donuts, cupcakes, avocados and watermelon studs, to miniature china teacups, cake plates, teapots and other delicious treats set onto necklaces.
Hand-stamped vintage teaspoons and cake forks complete the set, carved with messages like, "Love tea" and "Love cake".
There's something old and new for everyone.
Why and how did you get started?
I originally started pouring soy candles as a hobby (for relaxation). I love vintage teacups and also reusing things, so these and depression glassware were used. Soon I was giving them as gifts and someone suggested I try a market. My first market was the old North Melbourne Market – I had found my tribe. When you have two toddlers the whole event seemed like a great way to re-connect with work and adult folk.


Next I added the upcycled cake stands (my first were for my daughters' birthdays in 2011). At the time I couldn't find any, as they weren't very common back then. I used the famous words, 'I will make them'. So it was a good mix to sell cake stands with the teacups. Some are trinket in size, so perfect for putting jewellery on.
At first I took some of my personal jewellery to use as display at markets and then got sick of being asked, "Are they for sale?" At that time it seemed again like a good idea to make my own tea party themed handmade jewellery and sell them. However, soon the jewellery was selling more than the other products, so that is in a nutshell how my business has evolved.


With the growth of my online shop it's much quicker and more portable to package the jewellery over china. Having said that I still love vintage china and I can't imagine not including it.
How did you learn your craft?
The Internet (Google search). I would Google "how to make a candle… how to make a cake stand… how to make resin craft, clay craft", you name it. I also watched a lot of YouTube videos. In a past life I was a business analyst and a project manager. These skills turned out to be good for crafting and running a small business.
I have even been able to translate some of what I do to step-by-step tutorials and had some of my articles printed in magazines! Then on top of that… practice, fail sometimes, repeat, repeat and practice. I'm onto my second year of making fairy bread studs using real sprinkles and resin over polymer clay. I can safely say only recently I've perfected the best way to do this (I have tried many).


How did you come up with your business name?
Kate and Rose is named after my two daughters (it's their middle names, eldest first). At the end of the day I decided to do a home business to juggle my work around them, and they are the main beneficiaries of my work effort.
I was going to call my business Vintage Vera (after my nanna who loved kitschy stuff and was a lovely crafter), but this name is registered in the US, and then I decided it was best not to associate the name with a particular genre.
What did you want to be when you were a child?
Don't laugh, an air hostess (but I was too short). I thought it would be a cheap way to travel and see the world.

What's the hardest thing about running your creative business?
Finding enough hours in the day to get everything done, from making, to social media, writing quotes, updating a line sheet, doing my accounts (groan), marketing, seeing stockists, packaging, and remembering to occasionally vacuum!
Who or what inspires you?
Other makers inspire me. One in particular is Nicole from Merry-Go-Round Handmade. Nicole creates beautiful buntings, retro aprons and other items up-cycled from vintage and retro fabrics, and tea towels. I have a number of the buntings, and they are lovely with embellishments from doilies etc.
We try and meet up for a coffee a few times a year and motivate each other to look at new avenues and opportunities. She is always encouraging me to work on my online store and I think we are kindred souls as we both like to upcycle and love both retro and vintage.
My daughters also inspire me to do the best I can, so the fam in general. My final inspiration is tea and coffee – without these friends I would not function.

Tell us about your work space…
This is confession time. I have spread throughout our house, like a type of crafting cancer. Materials can be found in many nooks and crannies. I have multiple workstations. My entire vintage collection is in our middle room.
This room (which is meant to be a space for the kids), is full of vintage china, drying resin, clay in various states of production, trays of backings to be set, orders in process. Then there's more china, intermixed with forgotten paper work and missing notes from schools.
Where can we find Kate and Rose upcycled products, kawaii inspired jewellery and vintage tea sets?
You can also find some of my range in the following locations and shops:
Where can we find Kate and Rose upcycled products, kawaii inspired jewellery and vintage tea sets?
Online in my Etsy shop, which you access via www.katenrose.com
Markets and fairs (advertised via my Make It Directory Listing, Facebook and Instagram)

You can also find some of my range in the following locations and shops:

North Fitzroy – Muscrats Vintage and Handmade
Seddon – Once More With Feeling
Kyneton – The Old Auction House
Sanctuary Lake – PharmaSave
Berry (NSW) – The Berry Tea Shop

BUY FROM Kate and Rose
How to purchase products
Go To Store
Are you a maker?
Get your own Meet the Maker page to showcase your story, open an online store & join our community today!
Learn More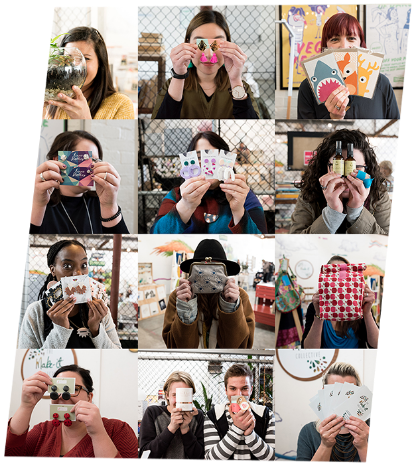 level up your knowledge
The Make It Collective blog