MEET THE MAKER
Cheerio Paper Co

Hi Maude, tell us a little about Cheerio Paper Co…
Cheerio Paper Co is my little Melbourne-made eco-stationary label that produces unique and playful keepsakes with the goal of making everyone's day a little more cheery. I'm all about sharing the ups and downs of life with humour, colour and terrible puns.
My greeting cards have grown to feature designs on tea-towels, pencil cases, tote bags, notebooks, colouring cards, pins, brooches and other treasures.
I also treasure the environment, and all Cheerio Paper Co products are made using recycled paper, sustainable materials, local production and renewable energy. I get a buzz out of making people smile, and my products are designed to tickle funny-bones, melt hearts and help people celebrate the important moments in life.
Why and how did you get started?
I have been drawing silly pictures and comics for as long as I can remember and even went to art school, but it wasn't until I was on maternity leave and grappling with post-natal depression that I thought about turning it into a job.
I remember getting a lovely card from someone when I was at a really low point, and being surprised at how much a little piece of paper was able to cheer me up.
I've always loved paper ephemera, so I thought I'd have a crack at making my own and it's all snowballed from there.


How did you learn your craft?
My mum is very creative and was always encouraging of my doodles as a child. Art was my best subject at high school and when I graduated I went straight to art school and did a Bachelor of Fine Art majoring in drawing at RMIT. So I am basically qualified to draw stuff. Yeah!!
How did you come up with your business name?
I went through lots of ideas, but when I came upon "cheerio" it just clicked instantly. It's always how I've signed off my emails, but it also seems to sum up so much of what I want my label to be about: helping folks stay cheery through the ups and downs of life!


What did you want to be when you were a child?
I always imagined myself busking with my violin at our local market in front of my stall of homegrown produce and handmade frog soft toys (what can I say, they were a bit of a craze in our town when I was a kid!) I guess I wasn't really that far from the mark.
What's the hardest thing about running your creative business?
How there are only 24 hours in the day. And also, how many "great" ideas I have, and the process of weeding through these to find the truly great ones.


Who or what inspires you?
My bookcase: it's filled with beautiful illustrated books. I never ever feel short of inspiration, but often a flick through some books will help me to focus my inspiration or crystalise an idea. The Finnish writer and illustrator Tove Jansson is my absolute fave.
Tell us about your work space…
It's a little bit special! When we moved into a smaller house at the start of this year I knew I would need a studio, and the solution ended up being Barbara: a vintage 1960s caravan that is now permanently parked in our back yard!


Where can we find Cheerio Paper Co products?
In only the finest shops in Melbourne like Sticky Institute, The Make It Collective, Made It Lab and Santa Carla. Also on Etsy and sometimes IRL at markets over the silly season!
What do you love about being part of the The Make It Collective Community?
The Make It Collective really gives me confidence as a maker – I know I will always have an audience of discerning folks through the store, and it's a great place to test out ideas and new products.
Also, the gang are so kind and supportive, and I reckon it might just be the future of retail too, because I can't see much more of a win-win for shoppers and makers than buying from a collective.

BUY FROM Cheerio Paper Co
How to purchase products
Go To Store
Are you a maker?
Get your own Meet the Maker page to showcase your story, open an online store & join our community today!
Learn More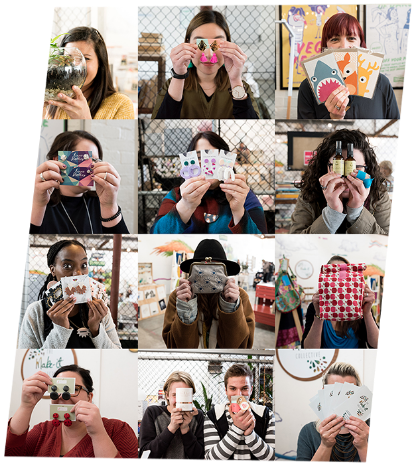 level up your knowledge
The Make It Collective blog