MEET THE MAKER
EVA in Stitches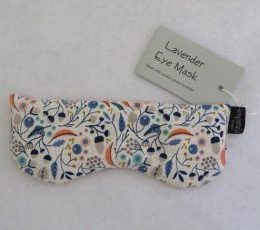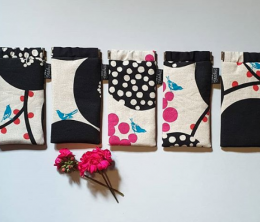 Hi Eva, tell us about EVA in stitches…
EVA in stitches designs and makes household items and personal accessories using beautiful fabric sourced locally and overseas. The range includes zip purses, tote bags, sunglass cases, scarves, bunting and other small items.
There is also a lavender range – heat packs, sleep masks with lavender inserts and relaxation eye masks. For children I make an embroidered sleepy cat cuddly version of the relaxation mask.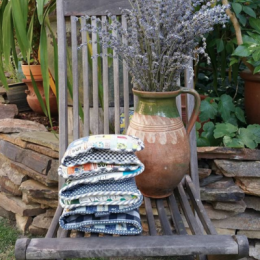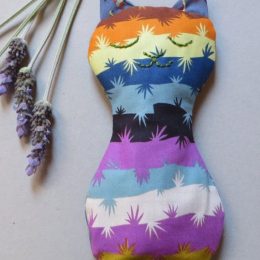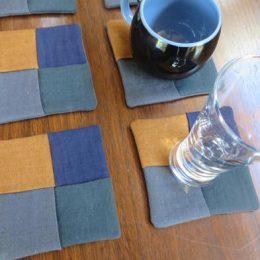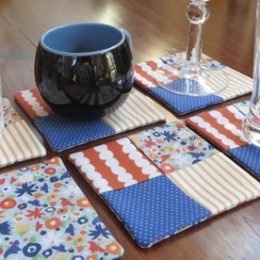 I aim for each product to be useful, but also fun with a high quality finish and attention to detail. Using best quality linens and cotton, kimono silk and rayon with beautiful prints is just a starting point – what goes on inside is just as important to me as making a superficially pretty item.
Figuring out designs for products that fit their purpose keeps me motivated. I love the maths and drafting and am always tweaking and improving as I go. I so enjoy when someone finds just what they "need" for themselves or as a gift and takes one of my products home with them.
Why and how did your handmade business start?
It kind of crept up on me in terms of realising that the things I enjoyed making might be suitable for other people too and that they may actually be prepared to pay for them. I still get shocked and delighted if someone makes a purchase!
I put a lot of thought and problem-solving into every purse or bag design and sharing what I make by offering it for sale was just a logical step.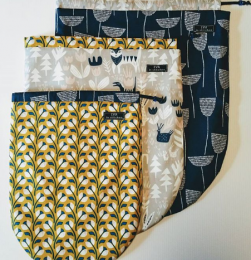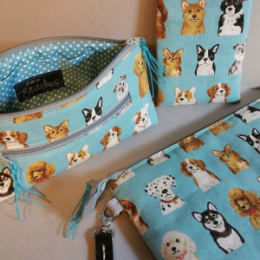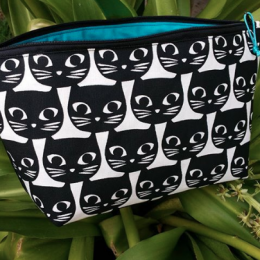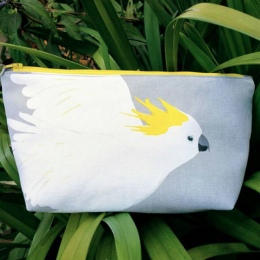 These days there are so many outlets that make it easy for a small business to put their product out there, so that is what I did. I started with Etsy, then investigated craft markets and basically discovered a world of makers and artisans who are passionate about their craft and I just love being part of that in a small way.
I have found an outlet to share what I make and of course selling is necessary and important, but it wasn't the main purpose at the start of this project. I am fortunate to have a part-time day job, which helps support my sewing hobby – anything I sell along the way is a bonus. I have huge respect for crafts people who are making it work as a full-time job.
How did you learn your skills?
I have been sewing for over 40 years – watching my mother sew and in my early teens realising that I could have a great wardrobe by sewing things myself – there certainly wasn't the money to buy the things I liked. So early on, sewing was a means to an end. Mum was there to fix mistakes and keep me on track so I have a lot to thank her for.
Over the years it became less about wanting something to wear and more about the joy of fabric, stitching and making for its own sake. I have undertaken a few courses over the years including technical pattern drafting as well as lots of crafty courses, but nothing "professional".
My dream would have been to do Textile Design at RMIT, but this hasn't eventuated – maybe one day.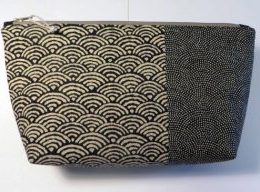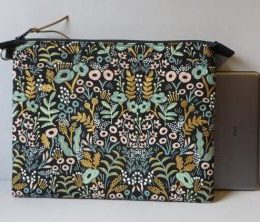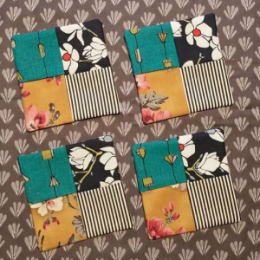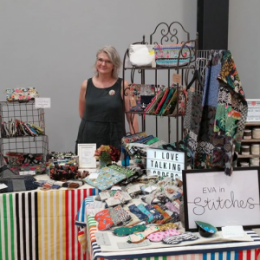 How did you come up with the business name "EVA in Stitches"?
It had to mean something and be descriptive, but also work as a short name. I wanted to use the word "stitches" because that describes what I do – whether sewing, embroidering, knitting or crocheting, I am stitching.
Using my own name simply introduces me and the phrase is short and easy to remember, so EVA in stitches just made sense. It also has the connotation of me laughing and having fun, which fits perfectly I think. Thank you to my graphic designer daughter for creating my logo… thank you Lauren, I love it!
What did you want to be when you were a child?
I can't specifically remember, but just all the usual things like ballerina, teacher, doctor and so on… in my early teens office admin became a clear choice for me, not just a stopgap till something better came along. I really love all aspects of general admin/bookkeeping and it has served me well over the years – I still work one day a week doing this.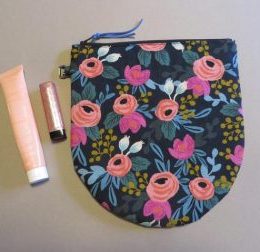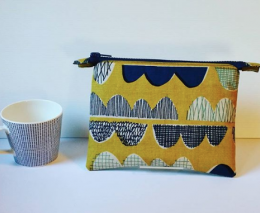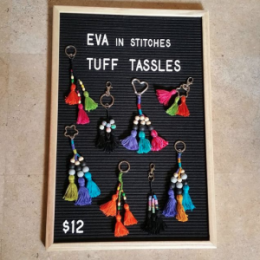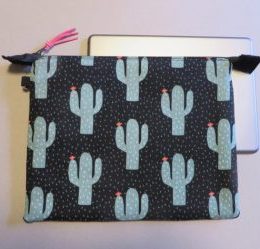 What's the hardest thing about running your creative business?
Actually, the business is easy. I love the designing, the making, exploring new ideas, the fabric, the face-to-face interaction at markets and spending time with other creative people. The hard part is fitting this in with my other responsibilities – keeping things balanced – that is HARD.
Who or what inspires you?
I am inspired by every single person who has ever mended an item in a decorative way, or tied a knot in a cloth to turn it into a bag. Sometimes a particular fabric will catch my eye and I instantly know what I want to make with it. Alternatively, I will have a particular purse for a specific purpose in mind and I enjoy the hunt for the most suitable materials to use.
Absorbing outside influences, current fashions and then translating that into something unique and individual is a constant challenge and joy. Noticing people in the street, floral and leaf patterns in gardens and the countryside, pretty much wherever I look I see inspiration and I always have my camera and sketchbook with me to jot down ideas.
I am dabbling in embellishing plain fabric with my own designs with print and embroidery, but that is still under wraps.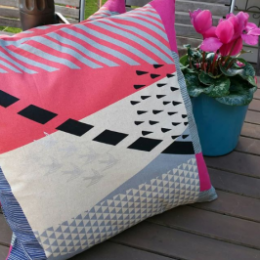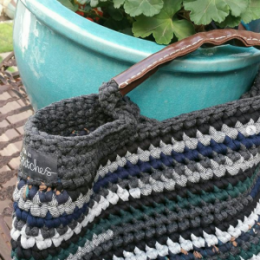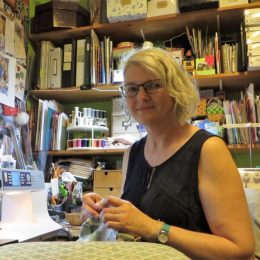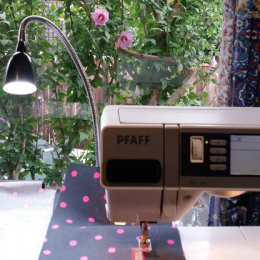 Tell us about the Eva in stitches work space…
I am fortunate to have my own sewing room – it is small and directly off the kitchen – for me kitchen and sewing room are the heart of the house. The wonderful thing about having a designated space is that I don't need to pack everything away in the middle of a project, I simply switch the machine off, knowing I can come back and start sewing again almost instantly.
The walls are lime green (my daughter chose the colour many years ago) and covered by shelves and cupboards stuffed full of all the bits that go with a sewing/fabric habit. A bit like a Rubik's Cube, but it works and I love it.
Where can we buy Eva in stitches handmade products?
I have a large range here at The Make It Collective Shop and a couple of other stores carry my items; Page 8 in Hampton and Finki in Brunswick. I do two markets a month – for the latest news on these follow @eva.in.stitches on Instagram is the best bet. I can also be found on Etsy.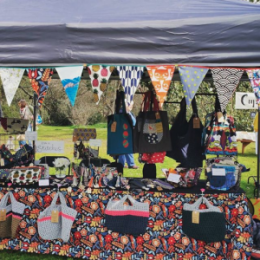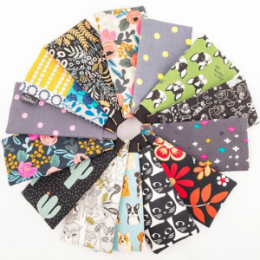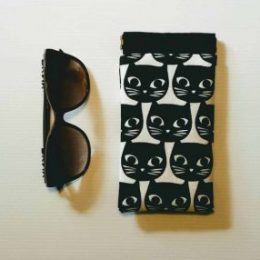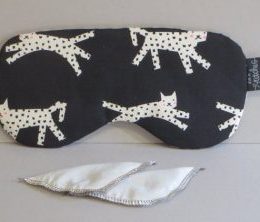 What do you love about being part of the The Make It Collective Community?
The Make It Collective is such a beautiful shop and the idea behind it of being strictly handmade and local is just fantastic. Kelli has managed to set up the perfect venue and outlet for makers where their product can be seen alongside other locally made items and reach an audience that a solo operator on their own could never achieve.
It is a win for both makers and customers. I am so enjoying discovering the other makers and products available in the store.
BUY FROM EVA in Stitches
How to purchase products
Go To Store
Are you a maker?
Get your own Meet the Maker page to showcase your story, open an online store & join our community today!
Learn More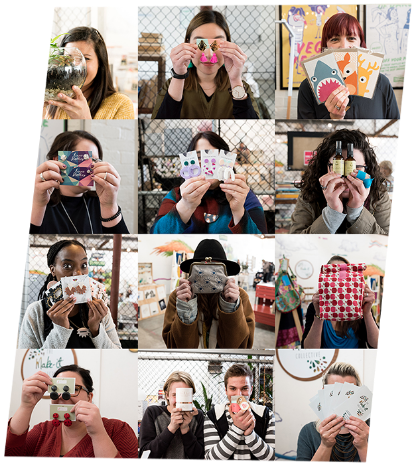 level up your knowledge
The Make It Collective blog