"Jingle bells, store-bought smells, handmade all the waaay… 
Oh what fun it is to make, save money and create… HEY!" 
This Christmas, trade consumerism for creativity with these DIY handmade Christmas tutorials ranging from easy-peazy to totally achievable.
Temporary Tattoo Baubles
It makes perfect sense: if you can apply temporary tattoos to humans, surely you can use them for art and crafts?! Check out Melbourne brand Pepper Ink Temporary Tattoos and choose from a range of floral, animal, quote, modern and vintage tattoos to adorn your baubles, then head to the Tattly blog for a tutorial in creating beautiful DIY Christmas ornaments that make perfect gifts for neighbours, teachers and coworkers.

Festive Foliage Homemade Wrapping Paper
Hands off the glue gun, step away from the glitter pen and shelve your shiny red string – you won't be needing it this Christmas. As Abi from These Four Walls suggests, clear the living room floor, queue the Christmas tunes and pour yourself a glass of wine in preparation for an afternoon of festive foliage gift wrapping.
Just about anything green will contrast beautifully against plain brown and white paper, but Australian botanicals get our vote. If wrapping well in advance, eucalyptus will slowly dry out without shrivelling up before the big day.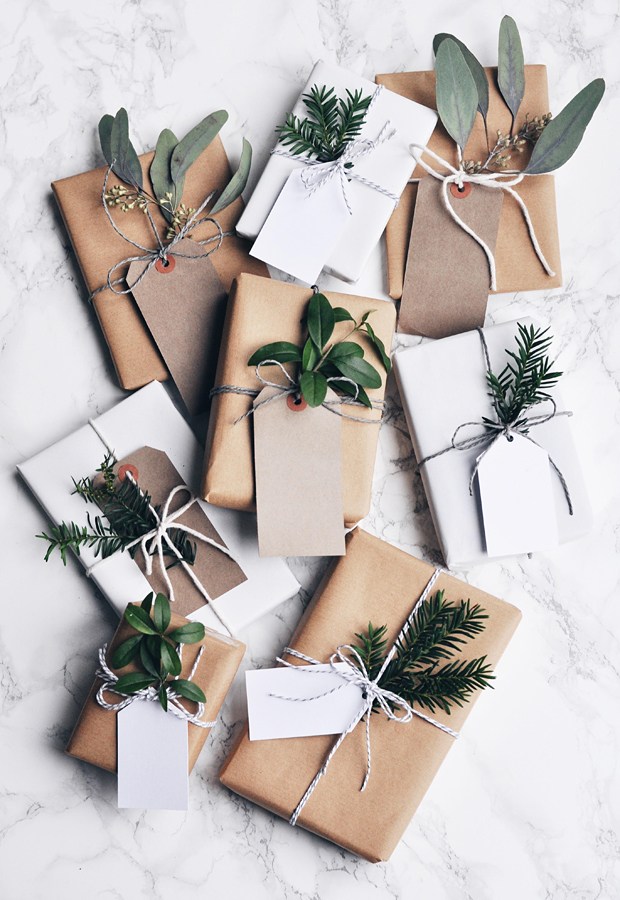 Hanging Glass Air Plant Ornaments
Michelle from Feminine Modern has created a super simple tutorial for air plant Christmas decorations. While she's chosen a gold dip finish, a combination of metallic green, red and silver spray paint could also be used to create a colourful collection.
These super resilient plants don't ask for much, with a fortnightly spritz keeping them fresh, and the baubles can continue to feature around the garden when the tree comes down without looking like an ornamental Christmas hangover.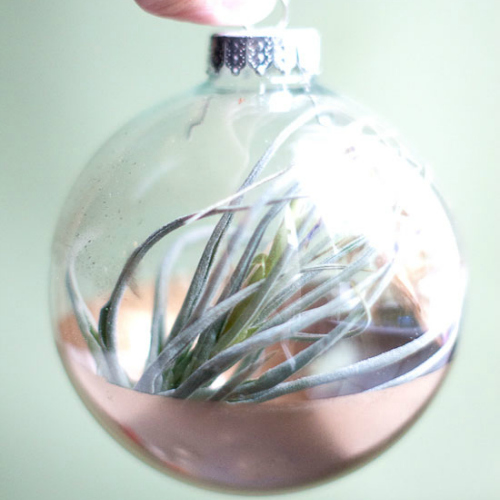 Washi Tape Bunting Tags
We love the gold, peach and fresh mint colour palette Torie Jayne used for her Washi tape Christmas bunting tutorial. These mini-decos also look great on handmade cards, wrapping paper, pin boards, and even the fridge.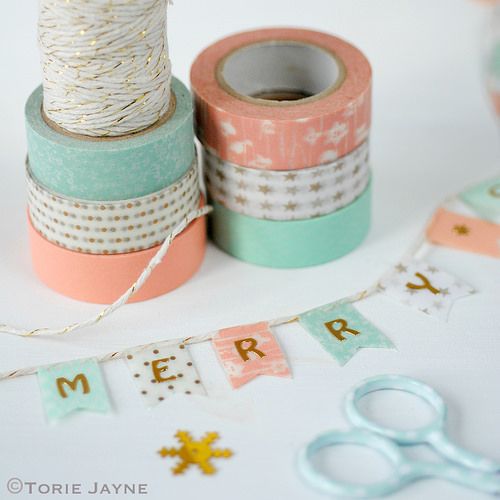 3D Mini-Clones for When You Can't Make it Home
This could well be the most innovative concept since Christmas Dinner in a Can. You can now 3D print a mini-version of yourself at Officeworks and send it home for Christmas dinner if you can't be there in the flesh – genius. Take it from someone who knows: Pip from Meet Me at Mikes undertook the cloning experiment and came out the other side 10cm tall. Follow Pip's instructions on how to clone a 3D Christmas figurine of yourself.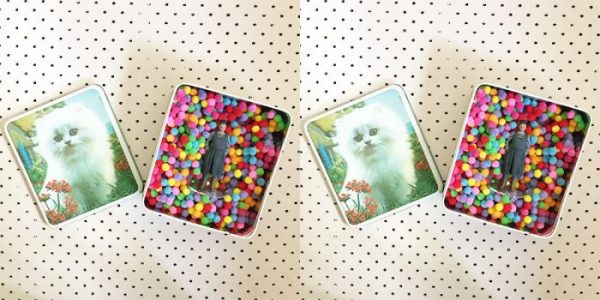 Porcelain Holiday Tree Lights
After unnecessarily spending $70 at Target on a similar product (we've all been there), Mandi from Making Nice in the Midwest decided she could create her own porcelain tree lights for a helluva lot less. So she set to work creating an easy to follow tutorial. For a genuine flickering effect, real tea lights work best, but LED alternatives are safer and just as sweet.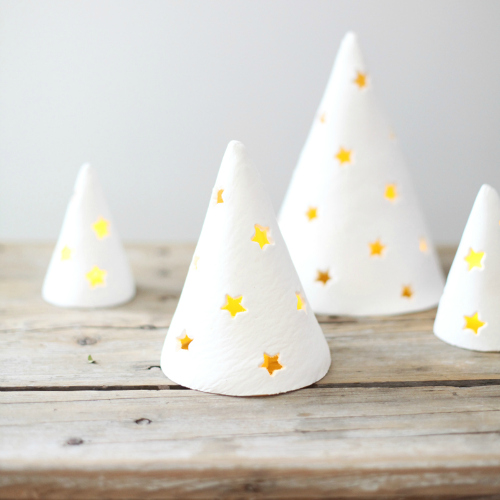 Wooden Nativity Statues
There's something about these understated, faceless nativity characters that embodies the Christmas spirit. This sweet little wooden family is the handiwork of Sugar Bee Crafts who, after Instagram went wild for them, decided to create a tutorial so others could make their own adorable little limbless clan.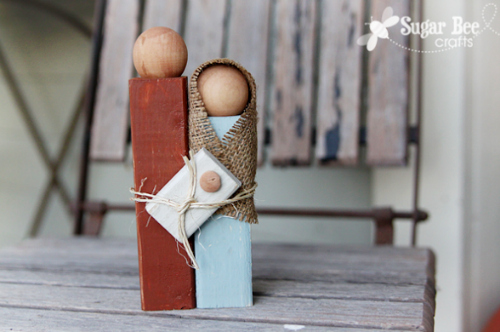 Balsa Wood Christmas Tree
These Scandinavian-inspired balsa wood Christmas trees from Lia Griffith make enchanting additions to the bookshelf, mantle piece or window sill. Create your own balsa tree cluster and decorate with paint, diamantes, buttons, washi tape and whatever else you've had lying around in the sewing box for years, just waiting for a time to shine.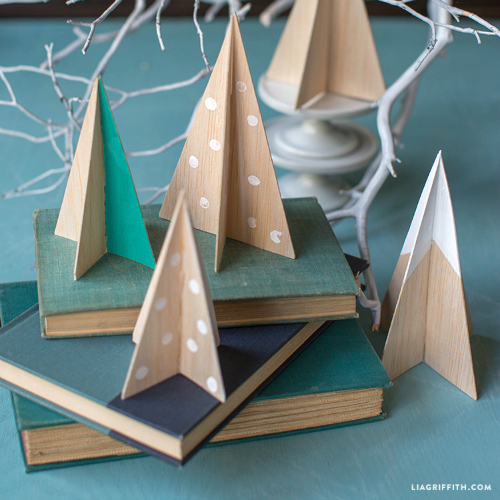 Mini-Terrariums
If you're dreaming of a white Christmas (but in reality bracing for another record-breaking Melbourne heatwave), making snow-filled terrariums in the comfort of air conditioning will be a welcome distraction. Aussie lifestyle blogger Lisa Tilse has put together a quick and easy tutorial using faux snow and animal figurines to create frosty mini-scenes for a whimsical escape on Christmas day.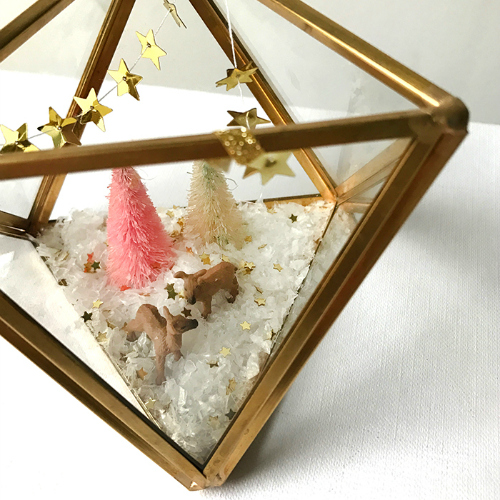 Wacky & Wonderful Christmas Nailart
It's Christmas-themed, and as far as we're concerned, it's crafty, so festive nail tutorials are right on-topic. If you start practicing now, you might even nail these digit decos before Christmas. Follow the step-by-step Stylecraze instructions here.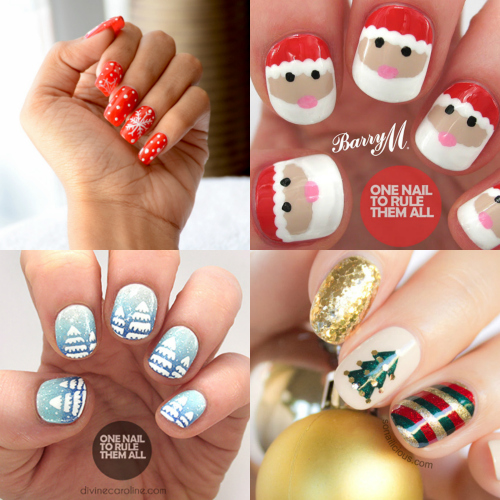 Christmas Spirit Homemade Lip Balm
Four ingredients is all you need for this easy to whip up beeswax, coconut oil, shea butter and secret oil lip balm. And while the Sparkles of Sunshine tutorial uses plain containers, why not decorate yours with Christmas colours using metallic spray paint to add silver and gold touches, or personalise with recipients' names for an extra special handmade Christmas gift?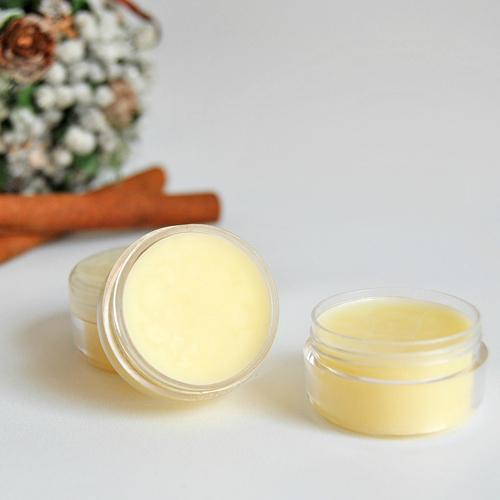 Christmas Star Gift Wrap
This gift wrapping tutorial on the Eclectic Creative blog is so simple you could be chowing down on cherries, perusing prawn salad recipes and belting out Bieb's Christmas album, all while creating gorgeous handmade gift wrap. These wooden personalised name stars mark the end of gift-giving mix-ups, so there'll be no accidental openings on Christmas day and everybody knows who's ripping into what.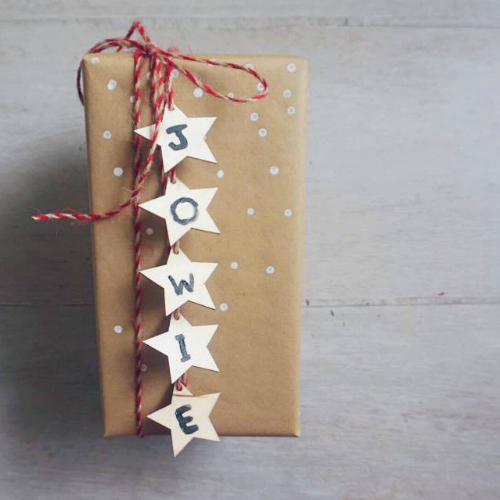 Too Lazy for Handmade Christmas Tutorials?
The Make It Collective will be releasing our very first handmade Christmas catalogue any day now! Sign up to our newsletter to ensure you don't miss out on this carefully curated list of Christmas gifts to stuff stockings full of feel-good, ethical products that support local handmade businesses across Australia.
And if you're in the Melbourne area, pop into the Northcote shop to browse our huge range of handmade accessories, handmade clothes, handmade homewares, plants & terrariums, body products, stationery and handmade kids gifts for unique Christmas presents you can be confident nobody has.