Download your FREE 6-Month goal Planner for Creative Businesses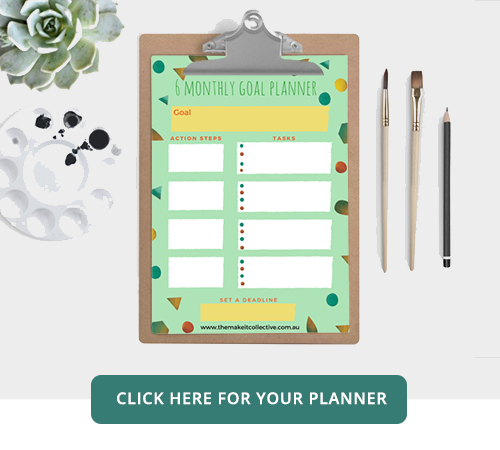 "Failing to plan means planning to fail"
Being a creative small business owner can be overwhelming at times with so much to do and only 24 hours a day to get it done!
As if running a handmade business isn't hard enough, growing a business – while living a healthy and balanced life – is another challenge altogether.
Don't let the next 180 days slip through your busy fingers. Be proactive and decide where your business will be 6 months from now using this guided goal setting tool from The Make It Collective for actioning achievable, measurable tasks step-by-step.
BONUS: Requesting the Goal Planner unlocks other great perks, like FLASH sales, giveaways & Directory Membership discounts! Submit your details for access >>>
Complete your details below to receive your FREE 6-monthly goal setting planner.
"Feel like you've been 'winging it' for too long? If you've come this far without a plan, imagine what you can achieve with a roadmap to success. Download my step-by-step goal setting guide and take the reins on your business… Not the other way around!"
The Make It Collective